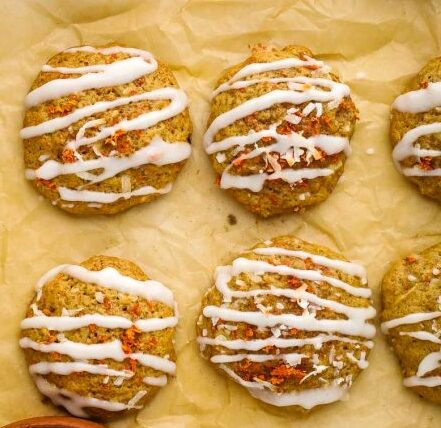 | | |
| --- | --- |
| | |
Preheat oven to 350 degrees. Line a baking sheet with parchment paper and set it aside.

In a large bowl, combine the melted butter, granulated sugar, and brown sugar until mixed.

Add the egg and stir until combined.

In a separate bowl, combine the flour, baking soda, salt, and cinnamon.

Add the dry ingredients to the wet ingredients and stir until there are no streaks of flour. Add the shredded carrots and shredded coconut and mix until combined.

Drop rounded tablespoons of dough onto the prepared baking sheet. Bake for 12-14 minutes or until golden brown.

Let cool for 1-2 minutes, then transfer to a wire rack to cool completely.

To prepare the cream cheese frosting, whisk the cream cheese, powdered sugar, and milk until smooth. Once the cookies have cooled, drizzle with cream cheese frosting, if desired.