WHAT ARE MICROGREENS?
Microgreens are tasty, tiny vegetable shoots that are harvested at the first true leaf stage. They add a boost of intense flavor to your salads, sandwiches, smoothies, and entrees or as garnish for side dishes.  Add them to your breakfast, lunch and supper. Microgreens boast up to 40% more nutrition than when fully grown!
Microgreens are definitely gaining popularity. They are no longer a "chef only" luxury. Grown year-round, with sustainable practices, low food-print and on-trend local, clear label, #freshisbest high quality,  it is our mission to see 
 Microgreens on every kitchen table.
It's no secret today's food customers are looking for local, fresh, flavorful food. They like to shop often, frequent farmers markets and local Co-ops and they like variety. Lots of variety! They're looking for color, flavor, texture, nutrient dense, unique produce grown responsibly and with sustainability practices. Clear, clean labels, in recyclable packaging. Microgreens are a perfect fit. We all want to know the who, where and why behind the food we eat. We hope you enjoy clicking through our website to learn just that. You'll find recipes, products, location availability, and of course, our story. #Micromagic 
At The Greensted, we also grow a variety of baby salad greens tomatoes, root  vegetables, available seasonally.
Watch!
Listen!
Get your Microgreens at  area Co-ops, Grocery Stores and Fine Dining Restaurants 
July 13, 2020 Microgreens Entrepreneur podcast – Listen here: http://Episode 12  We had the great pleasure of chatting with Brian and sharing our Microgreens start up story. Brian's podcast has received international attention, with fun interviews and great information for starting up a microgreens business. Go take a listen!
Listen in to our podcast interview at Hotdish, The Just Food Co+Op Podcast
WHO ARE WE?
We are Dean and Jayne Bredlau, and we love greens! We love to grow them, eat them, and most of all,  share them with you, our greens-loving friends! Read more of our story here.  To order or send a message,  Contact us here!   We love to provide samples of fresh microgreens — just ask!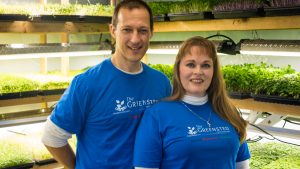 Proud member of these organizations.
Building Connections Group – Entrepreneur Peer Network

Minnesota Grown

Sustainable Farming Association
Cannon River Chapter
Cannon Valley Grown
Regional chapter