Find yourself struggling to pull together lunches to take to work – or quick dinner for the family? Try this Make-Ahead recipe that is vegetarian, gluten free, super-nutritious and filling. Starting with Quinoa, to be a super food, you can't go wrong. One cup cooked quinoa has 222 calories, is 71.6% water, 21.3% carbohydrates, 4.4% protein and 1.92% fat. It's low on the glycemic index (53) and good source of fiber at 2.8%.
Microgreens of course offer a great deal of bio-available nutrition, with Red Cabbage among the USDA's top four. It offers significant levels of vitamin C, E, K and beta carotene all of which aid in reducing circulating levels of "bad" cholesterol an helping to prevent heart disease. https://www.medicalnewstoday.com
Kale, of course, is always a favorite for both flavor and nutrition. Packed with more vitamin C than tomatoes, they have anti-cancer potential promoting the elimination of potential carcinogens from the body. https://www.healwithfood.org/health-benefits/kale-sprouts-anti-cancer-benefits.php
But enough of the data and on to the yummy. Enhance the bowl with additional protein options i.e. cooked chicken, salmon, shredded beef or cubed and sauteed tofu. Try this fun recipe, and let us know how it works out for you and your family.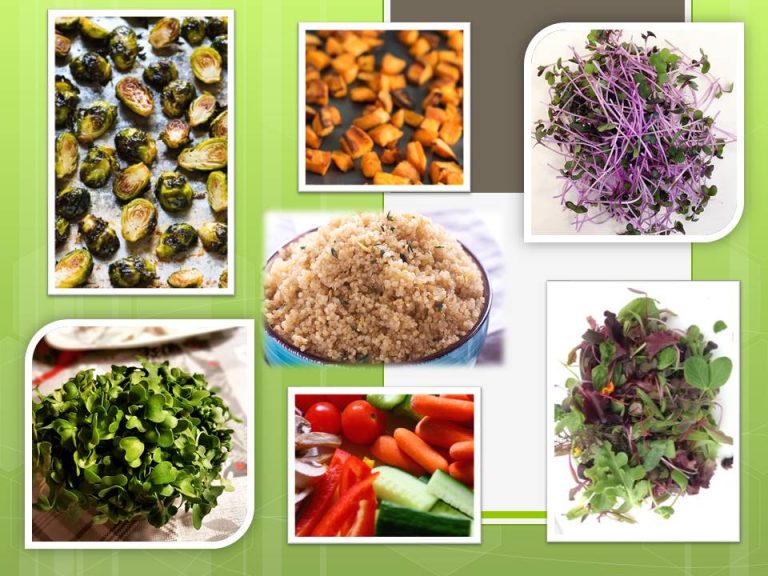 | | |
| --- | --- |
| | |
Preheat oven to 425 F and place a rimmed baking sheet in oven as it heats. Toss sweet potatoes with 2 tablespoons oil and salt. Spread out on hot baking sheet and roast until tender when poked with fork, about 20 - 30 min.

Toss brussels sprouts and onion in 1 tablespoon oil and balsamic vinegar if using. Arrange cut side down on pan, sprinkle with salt and place in oven with sweet potatoes. Roast about 20 min, til tender when poked with fork.

While vegetables are roasting, cook quinoa with water/stock per package directions.

To assemble bowl: Mix large handful of salad greens with ¾ cup quinoa as base. Layer roasted vegetables, raw chopped vegetables, Kale and Red Cabbage microgreens (and Sweet Peas chopped, if using), Sunflower seeds and feta cheese. Drizzle with balsamic dressing of choice

To store: Once everything is cooked, store in refrigerator in separate containers ready to assemble. Keeps well for up to a week. To go: pack dressing, sunflower seeds and feta separately from bowl items to prevent greens getting soggy.