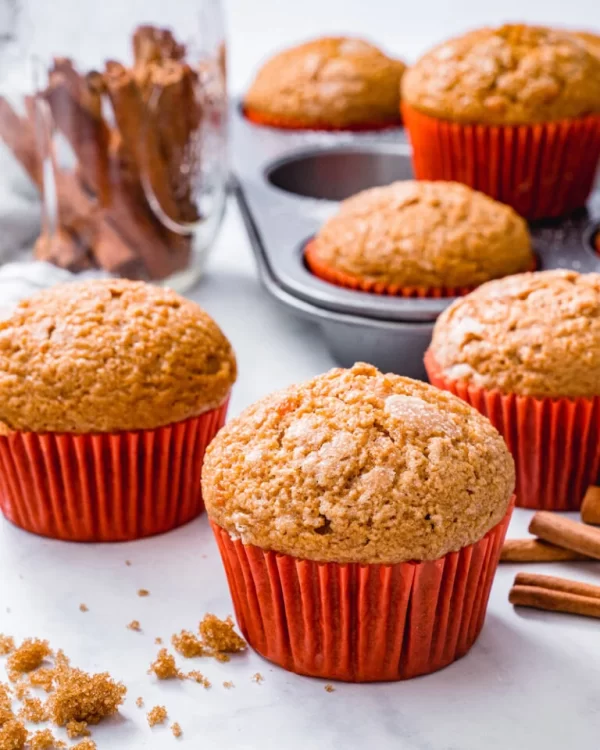 | | |
| --- | --- |
| | |
Cook the sweet potato: Bake or steam your sweet potato. Scrape the flesh out of the skin and use a fork to mash it in a bowl. Measure out 1 cup of puree. While the potato cooks, preheat and prep the batter.

Preheat the oven to 350 degrees F. Add 12 muffin cups to a muffin tin.

In a large bowl, stir together the flour, cinnamon, baking soda, baking powder and kosher salt. In a separate bowl, whisk together the eggs, then the milk, brown sugar, sweet potato puree, oil and applesauce. Pour the wet mixture into the dry ingredients and stir until combined. Fill the muffin cups evenly (there will be a good amount of batter, which makes for tall muffins). Sprinkle the tops with granulated sugar.

Place the tray in the oven and bake for about 25 minutes, until a toothpick inserted in the center comes out clean. Allow to cool in the pan for 5 minutes, then remove the muffins and place them on a cooling rack to fully cool.

Store up to 4 days in a sealed container with a paper towel on the bottom and top, refrigerated up to 1 week or more, or frozen up to 3 months.
Source: https://www.acouplecooks.com/sweet-potato-muffins/