Welcome to our 2023 Community-Supported Agriculture program at The Greensted!
Every Tuesday, you'll receive an email with that week's CSA share contents. Please understand the early shares will be smaller. As the Gardens get going, there will be more variety and contents each week.
We know only some things are for everyone! So, we avoid putting bitter greens, excessive herbs, and hot peppers in your share. However, if you're interested, we'll have them on hand as a bonus when seasonally available.
Pickup is Thursday from 4-6 pm at The Greensted. Your box provides fresh, quality food for your family while integrating locally-grown agriculture back to the community.
Still interested in joining the CSA program? We have a few remaining spots! Call Jayne for more details at 507-358-2680.
Thank you for joining us in 2023!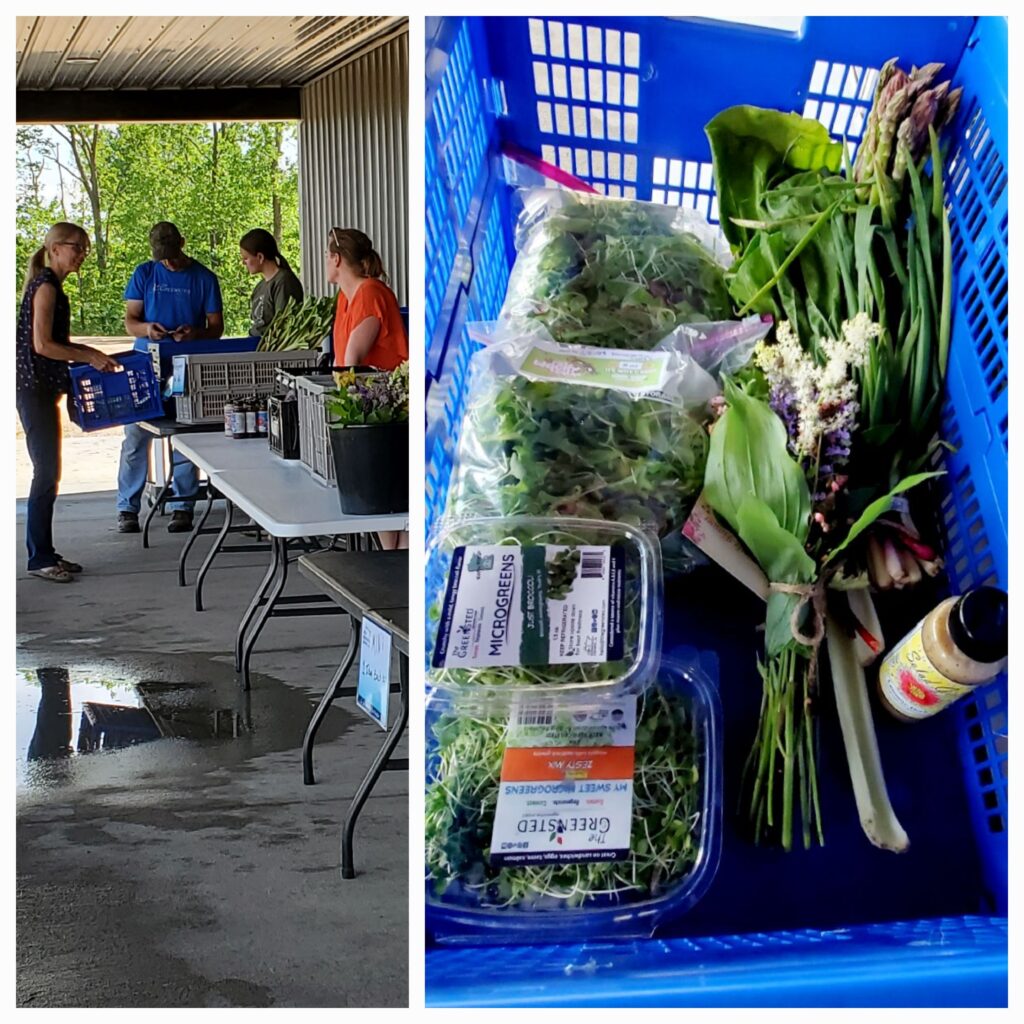 In your CSA Box This Week
We appreciate your patience as we worked through the first week's bumps. Remember to bring your crate each week. Shares will be smaller these first few weeks. Hang on! The bounty is coming!
Did you try the rhubarb recipes? Please share! Post a photo on socials of your impression of the recipe outcome and if you'd like to try it again, or send Jayne an email with the info so she can share it with the world. We highly value hearing from those who are incorporating the fresh produce into their own kitchen creations.
THIS WEEK:
Wacky Salad
Microgreens
Asparagus
Spring Leeks/green onions (not Minis)
Chard (Mini's only)
Kale – Full and Small shares
Radishes
Honestly Cranberry dried cranberries
Share Value: Full share: $30 Small Share $30 Mini Share $23
Asparagus, spring leeks, radishes and greens are sourced from Prairie Hollow Farm in Elgin, MN.
Recipe Of the Week
Easy Breakfast Salad
YES, salad for breakfast.
No it's not weird!

Here is a simple, delicious breakfast salad with sautéed greens, roasted veggies and fried eggs. You'll be ready to start your day with this great combo of protein, healthy fat, and veggies. 

Prep time: 5 mins |  Cook time: 15 mins | Serves 1
 
INGREDIENTS
½ cup roasted vegetables – cauliflower, broccoli, potatoes or sweet potatoes
1-3 teaspoons avocado or olive oil
1/3 cup chopped fresh onion
1 clove minced fresh garlic 
2-3 cups baby greens – i.e. spinach, kale, arugula
1/3 avocado, sliced, sprinkled with a little lime juice
Favorite Microgreens
Freshly chopped herb – i.e. dill or chives
Sea salt and pepper to tasteHeat 2 teaspoons of oil in a large skillet over medium heat. When hot, add onion and garlic; sauté for about 5 minutes.
Add greens and roasted vegetables; toss to combine and sprinkle with sea salt. 
Cook stirring often for about 2 minutes or just until greens begin to wilt.
Transfer veggies to a salad bowl.
Crack two eggs in the same pan, adding a little more oil if needed.
Cook eggs to desired consistency, sprinkle with salt, pepper and hot sauce if desired.
Place the eggs on top of the cooked veggies and greens in the bowl. 
Top with microgreens, fresh herbs and sliced avocado. 
Drizzle with your favorite balsamic vinaigrette if you'd like a pop of flavor. 

Note: Place one serving of The Wacky Salad in the bowl first – don't wilt. Add the sautéed onions, garlic and warmed roasted veggies. Proceed with rest of the instructions.

Source: https://www.eatingbirdfood.com/sauteed-breakfast-salad/  Brittany Mullins
From the Fresh-n-Local Farm Store
Finally! A delicious, unsweetened dried cranberry without sugar, juice, or oil. You have to try these!
Grown in Wisconsin, Honest Cranberry products are simple and delicious. It can be difficult to find dried fruit that tastes like the real thing without the added stuff.
Around here, we love to put them on summer salads, morning oatmeal or tossed into a cranberry rhubarb crisp. (Cranberries are not just for fall!)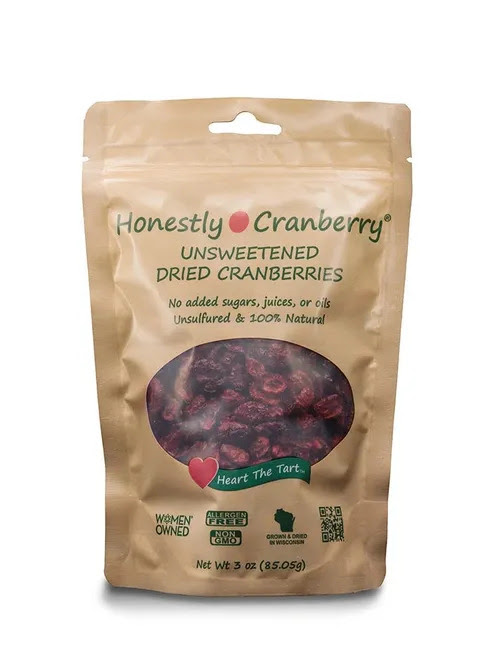 the TART!
Meet the Team

My name is Casey Vagts, and I am from Cannon Falls, MN. 
I am currently a senior in the dietetics/nutrition program at UW-Stout. I am working at The Greensted this summer to learn about the whole farm-to-table process. So far, it's been interesting! My favorite microgreen right now are Sunflower Shoots.
I am passionate about reducing food insecurity and being a source of credible nutrition information in my future career. I am happy to help provide local, fresh, and fiber-filled foods to you!
On the Farm
Last week: Harvested 4 lbs lettuce, 1 lb shell peas, 3 medium size beets, and 1 triplet-onion foraging in the high tunnel through the winter's pile of reclaimed microgreens soil!

Set up new walk paths with landscape fabric, then planted peas & beans 13 x 40′ rows of each.

Setting up hoops to hold shade-fabric over this summer's lettuce beds. Planting beets (seeds) and onion plants.

Prepping beds to plant the remaining transplants, melons, corn, squash and pumpkins.

Would love a few volunteers to help with planting and weeding. The deer fencing needs fixing if anyone is handy with that.