CSA Newsletter August 2, 2022
Welcome to our 2022 Community-Supported Agriculture program at The Greensted!
Pickup will be Thursday from 4-6 pm. We appreciate your interest and can't wait to get to know all of you personally. Email us with any comments, questions, or concerns you have.
Thank you!
The Greensted Fall Stedfest will be Saturday, October 8, 9am-2pm
This is what to expect August 4 :
Salad Greens
Red Onions
Squash
Dill
Parsley
Microgreens
Carrots
Beaver Dam Peppers
Cucumbers
Green Beans
Roasted Green Beans with Shallots
1 pound green beans
1 tbsp extra virgin olive oil
1/2 cup shallots – thinly sliced
Salt and pepper to taste
1 tsp lemon zest
Preheat the oven to 450 degrees and arrange rack on lowest shelf.
Wash then pat the greens dry with a clean towel.
Put the beans on a large rimmed baking sheet. Add the oil, shallot, salt and pepper. Toss together
and arrange the beans in an even layer.
Roast until the beans are beginning to blister, turn golden brown and the shallots are caramelized.
To cook evenly, flip them around with tongs after they've been in the oven about 10 minutes. Cook
for another 5-10 minutes.
Transfer to serving bowl and top with lemon zest.
Source: https://familystylefood.com/roasted-green-beans/#wprm-recipe-container-83083
What's Happening on the Farm this Week?
Here at The Greensted, we are also
excited that melons are almost ready to be
harvested. Pictured above is one of many
Sugar Baby Watermelons that we have
planted. We are hoping to share them with
you very soon! We have a variety of
melons growing like honey dew, two
varieties of cantaloupe and one called
Crimson watermelon. Stay tuned for more
updates about the melons!
Our product highlight this week is Quebracho Empanadas. Quebracho Empanadas started when Belén Rodríguez lost her job as a hospital translator due to the pandemic. After that, she decided that she wanted to start a food truck which then turned into an empanada business. She now sells her Argentinian empanadas in over 130 stores. The Farm Store carries the Chicken and Spinach flavored empanadas.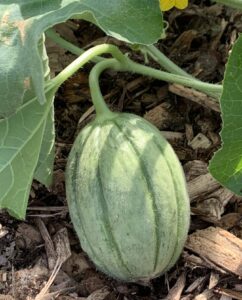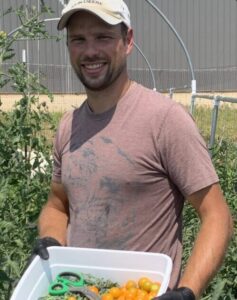 We have also been transplanting more
vegetable plants this week. Kohlrabi,
cabbage, and some squashes will all go in
this week. On a daily basis, we have been
pruning and trellising tomatoes and
cucumbers. We will also be turning the
pea beds, They have stopped producing
so we will be composting those plants and
then putting in new pea plants.
We'd like to introduce you to Andy, or
as we call him "Handy Andy." He worked
several years in the marketing and
branding field but he and his wife, Ally,
agreed on a big change for their family.
Andy came to The Greensted exactly one
year ago this week. He is in charge of the
day to day operations of the gardens,
planting, watering, and harvesting. He
helps with growing and packaging
microgreens too.
Andy's family lives the homestead lifestyle,
residing just outside of Zumbrota. He
grows his own vegetables and has
chickens and pigs for meat. One of his
daughters, Layla, sells her chicken eggs to
The Greensted. You can find them in the
refrigerator case under From the Clay
Farms name. His wife posts on Instagram
and Youtube about the farm life and other
fun videos. Check them out