2023 CSA Newsletter August 15 – Week 12
This is what to expect on August 17:
Wacky Salad
Microgreens
Beans
Shell Peas
Garlic
Peppers
Broccoli
Cucumbers
Other TBD
This week's Share Value:
Full share: $46  ~  Small Share $33  ~  Mini Share $25.50
Not sure what to do with your produce?
Kernza and Roasted Veggie Salad
Kernza – ever heard of this grain? According to kernza.org, "Kernza is a robust perennial grain that is pleasing palates and enriching fields around the world." It's a perennial crop – meaning it doesn't need to be replanted year after year. It has an extensive root system going down 10+ feet underground that draws down carbon from the air to build healthy soil, reduce erosion, improve wildlife habitat, and protect water sources. Essentially it can begin rebuilding our agricultural system that is stripped from years of monoculture. Kernza has been used as fodder for livestock. Now the intermediate wheatgrass is being domesticated as a grain for human food.
Kernza is a cousin to wheat, is very high in protein and does contain gluten. It is being made into flour for baked goods, crackers, pasta, pancake and waffle mix and more! It has a mild, sweet, nutty flavor. Where do we get Kernza locally?  Perennial Pantry located in Burnsville, has a wide variety of Kernza based products available in a few co-ops in the twin cities. But hold on! The Greensted is investigating the options to have in our store!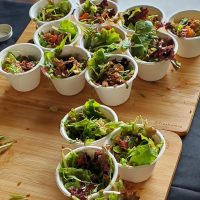 Kernza and Roasted Veggie Salad
Prep time: 5 min. Cook time: 10 min 4 Servings 81 cal/serving
INGREDIENTS
1 cup Perennial Pantry whole-grain Kernza (Can sub with Quinoa)
2 large beets (or 3-4 medium)
3 carrots
2 Tablespoons Olive Oil
6 oz. Wacky Salad
INGREDIENTS for the dressing
1/2 cup Olive oil
1/4 cup lemon juice
1/3 cup maple syrup
INSTRUCTIONS
Place the Kernza or quinoa in a sauce pan with 1.5 cups water, and a pinch of salt. Bring to a boil, reduce heat and simmer with lid on for 20 minutes – or until soft/chewy. Cool and refrigerate.
Heat the oven to 375 degrees. Scrub the beets and carrots. Cut into small dice-sized pieces. Toss with 2 tablespoons olive oil and place on a baking sheet. Roast for about 30 minutes until slightly browned. Turn half way through cooking. Cool and refrigerate.
To make the dressing: whisk the ingredients until emulsified – can use a blender. 
To serve: Toss the cooked grain and veggies separately in the dressing. Plate the Wacky Salad greens, top with the veggies and grain. Drizzle extra dressing over the top. 
Optional: add shredded cheese and/or roasted and salted sunflower seeds
 
Source: Our catering friend, Gwen Anderson, owner of The Local Plate.
The Secret Garden
The Secret Garden,  located in Park Rapids, Minn., is owned by Anne and Duane Morgan. They with their infant daughter arrived on the Hubbard Prairie land in 1972. Neither had experience growing a garden, and after a woodchuck wiped them out, the year is remembered as "a disaster." But they kept trying, learning, becoming self-taught organic growers. Eventually they had a 120 member CSA program, U-pick berries and were farming up to 3.5 acres. They canned, froze and dehydrated their own food to preserve what was needed for their family. Through the years, Anne created her own recipes for meal mixes from the veggies and herbs they grew. She added wild rice, and whole grains. And of course "breads need spreads." Jam was added to the repertoire. Eventually they gave the land, and the people, rest and she focused on The Secret Garden business. "Everything I make has to be wholesome. My mission is to make delicious, nutritious value-conscious mixes that you'll enjoy preparing and your family will enjoy eating." 

You can find a selection of items in The Greensted Farm Store. We have some soup mixes (family-sized and soup for singles), dip mixes and a wild rice salad mix. Give them a try!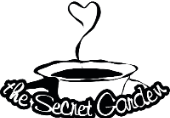 Around the farm this week
Last Thursday, as you know, we were out-n-about participating in a unique event called Meet Your Makers held at Keepsake Cidery. What a fun evening! We enjoyed chatting with the guests as they came through each of the "table" areas, trying new foods, meeting the makers! Everything was local, and absolutely perfect in taste and presentation. It was really encouraging to talk with other farming and producing friends – we are all having some struggles and some success too. It's good to connect with those who are like minded and similarly focused.
We have so much beautiful food coming this month! YES we will have cucumbers this week. We'd hope for them last week but those silly plants don't listen when we tell them our expectations. Green, purple and yellow beans this week. Shell peas in plot A are coming to an end, but we have Plot C that is starting to burst. The Sweet Corn is looking close but underdeveloped – definitely next. Tomatoes have been slow to ripen, but there are a lot of them in several varieties. The Melons are looking strong and the cutest Sugar Pie Pumpkins are ripening, along with winter squash. Cabbages! I almost forgot about those. We have loads of garlic, so let us know if you need more than what is in your CSA share. Sadly, the onions didn't do well this year and they have come to an end. Beets were eaten up by bunnies, twice and the sweet potato slips we purchased, didn't take off once planted. This loss saddens us and we are sorry to not have these couple of items for you.
The dill is "weed" so far, not headed out yet and we hope you enjoyed the fresh cilantro last week. More to come.
CANNING ORDERS! We are taking canning orders. Please get your orders in, and let your family and friends know.
Cucumbers – high demand atm. We are 4-5 weeks out on orders
Green Beans – bring it. We are loaded and can fulfill orders pretty quickly.
Tomatoes – taking orders now, will update on availability for pick up
Have a great week – eat fresh, love local, be healthy.