2023 CSA Newsletter August 8 – Week 11
This is what to expect on August 10:
Wacky Salad
Microgreens
Green Beans
Shell Peas
Cucumbers
Garlic
Peppers
Other TBD
This week's Share Value:
Full share: $40 ~ Small Share $34 ~ Mini Share $30
Not sure what to do with your produce?
Garlic Parmesan Green Beans
The Green Beans are coming in bucket-loads! Finally! After so much tending, weeding, watering and then weeding again, these summer favorites are coming in strong. Here is a quick recipe using beans, fresh garlic and herb. Grab the Parm from the Farm Store. Serve along side some grilled chicken or burgers, or top with crumbled bacon bits. Dress it up, or eat as is.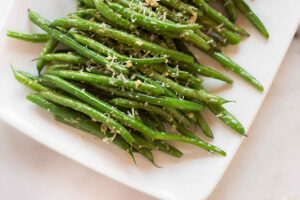 Prep time: 5 min. Cook time: 10 min 4 Servings 81 cal/serving
INGREDIENTS
1 lb fresh Green Beans, stems removed

2 Tablespoon Olive Oil

2 Cloves Garlic, minced

1/2 teaspoon salt

1/8 teaspoon ground black pepper

1 Tablespoon Parmesan Cheese, grated
INSTRUCTIONS
Heat olive oil over medium-high heat in a large skillet. 
Add garlic and cook 1 minute, stirring frequently
Add the green beans, salt and black pepper. Toss to coat the green beans evenly.
Continue to sauté for approximately 5-6 minutes.
Remove from the heat; sprinkle grated Parmesan on top. Toss once again until Parmesan is melted. 
Source: https://www.asweetpeachef.com/garlic-parmesan-green-beans/ 
Baba means father. Baba Jamal has brought the authentic flavor of his homeland, Jerusalem, to America in the late 1970s. The creamy hummus was created in the kitchen of his Minnesota restaurant, The Mediterranean Cruise Café, in 1979. The dish became popular very quickly with restaurant customers. Fast forward to 2018. Siblings Rana and Khalid have brought the family business to the next level. Producing their family hummus in authentic yet exciting flavors. As is fund on their website: "Our traditional hummus embodies the authentic, creamy hummus from our city Jerusalem.
Our spin-off flavors are the representation of our playful, rebellious and 'melting-pot' American side." 
The Greensted absolutely loves this fusion of cultures and flavors! We carry four varieties currently. But wait, there are more! So, which flavor here sounds fun to you? 
Around the farm this week
The plants are jammin'! Cucumbers are nearly to the roof, and loaded. Sweet Corn is tasseled and coming soon. In front of the sweet corn photo, you'll see the pumpkins are full of blooms. I spied one red cherry tomato this morning so hang on – there are lots coming. And the guys were out early this morning harvesting salad greens. It's amazing how RED the red varieties are getting. We've noticed a slight slow down in greens production – first, the extreme hot weather stresses leafy greens, and second, the days are getting shorter! Egads…it's hard to believe how fast this year is going.

CANNING ORDERS! We are taking canning orders now. Please get your orders in, and let your family and friends know. 
Cucumbers – high demand atm. We are 3-4 weeks out on orders
Green Beans – bring it. We are loaded and can fulfill orders pretty quick.
Tomatoes – taking orders now, will update on availability for pick up
Dean and I won't see you Thursday. We are participating in a neat event out at Keepsake Cidery in Dundas called Meet Your Makers. Chefs are crafting all kinds of food "bites" using all local foods from area producers. There will also be adult beverage pours. Tickets are still available. Come taste and meet good foods and people of the Cannon Valley. Get tickets: https://buytickets.at/renewingthecountryside/962384.
This is a great opportunity for us to get out and about meeting new potential customers and connecting with area growers. It's such a busy time of year we don't get to see our farm friends much. We're excited to be part of the fun!

Both Casey and Rachel will be working on Thursday to take care of pick up and store purchases. Give them some love for covering for us.