CSA Newsletter July 5, 2022
Welcome to our 2022 Community-Supported Agriculture program at The Greensted!
Pickup will be Thursday from 4-6 pm. We appreciate your interest and can't wait to get to know all of you personally. Email us with any comments, questions, or concerns you have.
Thank you!
Small Business Extravaganza will be Thursday, July 28, 4-7pm
*(Formerly July Grill Out)
The Greensted Fall Stedfest will be Saturday, October 8, 9am-2pm
This is what to expect on July 7:
Salad Greens
Bleed Heart Floral Bouquet
Kohlrabi
Tomatoes
Radish
Broccoli
Turnips
Microgreens
Kakookies
Leeks
Cucumbers
Green Beans
Beets
Peas
3 cups kohlrabi, peeled and cut into matchsticks
1 cup turnips, julienned or shredded
1 cup apple, cut into matchsticks
2 leeks, thinly sliced
2 tablespoons chopped parsley
2 tablespoons sunflower oil, Smude's Sunflower Oil recommended
1 tablespoon white wine vinegar
1 tablespoon maple syrup, honey, or sugar
1/2 tablespoon Dijon mustard
1/2 teaspoon salt
1 oz pea shoots, chopped
Remove any attached greens from the kohlrabi. Chop the peeled kohlrabi, turnips, apples, leeks, and
parsley as noted above.
Combine sunflower oil, white win vinegar, maple syrup, Dijon mustard, and salt in a jar with a tight fitting
lid. Mix or shake well.
Pour dressing into the slaw and stir well. Garnish with chopped pea shoots. Enjoy immediately or
refrigerate 1-2 days.
What's Happening on the Farm this Week?
This week has brought more new products into the store! We now have Escape Garlic Scape Pesto from Seven Songs Farm and blue tortilla chips from Blue Farm. We also have chickens from Regeneration Farms and an assortment of beef from Levin Family Farms. There are still more new products to come and we can't wait to share them!
Our product highlight this week is
individually wrapped cookies by Kakookies. Kakookies have real food ingredients,
plant based protein, and are incredibly
nutritious with whole grains. They are
great for a 'grab-and-go' snack,
breakfast, or just a treat. They are
vegan, gluten, and soy free.
Find them in the farm store in
individually wrapped sizes (like above) or 8 oz bags.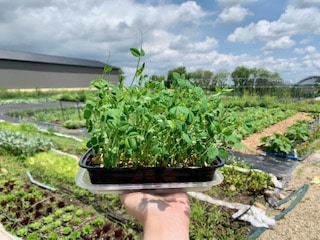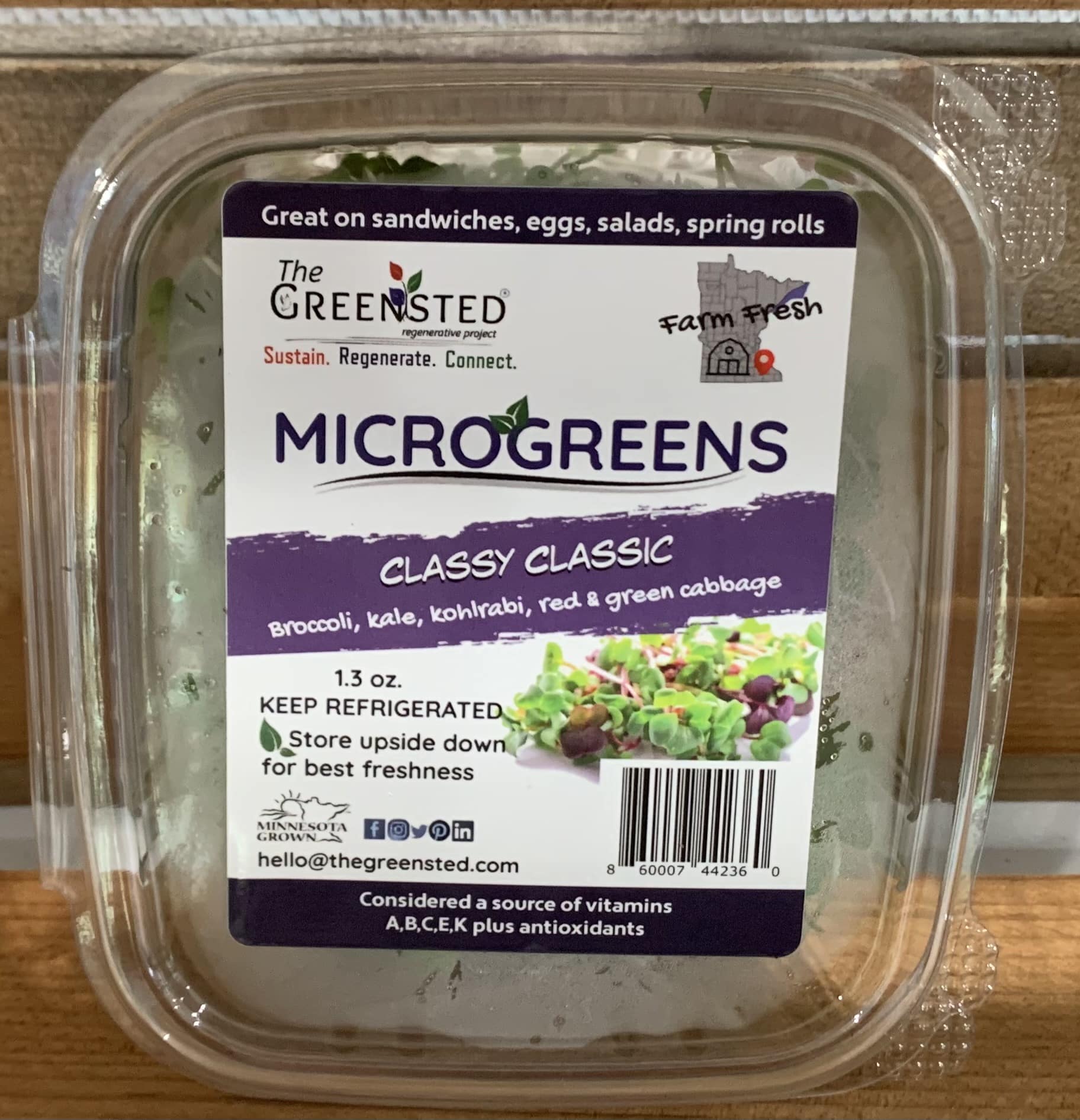 We have been weeding away this week to
make sure our plants are getting as much
water and sunlight that they need to grow!
This week, we also harvested leeks,
turnips, beets, radish, and kohlrabi for the
first time. We are excited to share these
new vegetables with you and can't wait for even more.
Don't forget to stop in the Farm Store for
eggs, baked goods, meat, and your own
"Microgreens Mini Grow Kit"!
(pictured above)
Our microgreen of the week is Classy
Classic. Classy Classic is a mix of
broccoli, kale, kohlrabi, and red & green
cabbage. This mix is a great source of
vitamins like A, B, C, E, K and many other antioxidants.