2023 CSA Newsletter July 11 – Week 7
This week
The last couple of weeks were rough. One of the biggest challenges is the AC that connects to a device called a CoolBot Pro to cool our walk-in cooler, was failing. It took time to locate the same make and model unit, shipping was extra long due to FedEx mis-steps. We received the AC unit last week, Monday, and Dean installed on Tuesday, the 4th. After fixing one small hiccup, it is running well now. Moving on! 
Employees have pre-scheduled vacations in the coming weeks, so please bear with us as we balance the work. We truly appreciate your kind acceptance of "dirty" greens last week and do not intend to do that again. We want to take home our greens and eat them, and want that same experience for you. 
  We are thrilled to include Blueberries in your shares this week! As in the past, we've partnered with Blue Fruit Farm in Winona. The farm is owned by Jim Riddle and his wife, Joyce Ford, who have now retired from farming. However, this is a power-house team of knowledge and experience in organic and sustainable farming! They have both worked as organic inspectors, served on various Minnesota Ag boards, organized the International Organic Inspectors Association and the Winona Farmers Market, trained new inspectors and influenced various Ag policies. In 2019 they received the MOSES (Midwest Organic and Sustainable Education Service) Farmer of the Year award. They have been great influencers in the sustainable farming world. They no longer live on site, but Joyce still enjoys hand weeding and harvesting their fruits when she's there.  Ben and Natalie McAvoy
were hired as on-site farm managers a couple of years ago. They and their young daughter, manage the day-to-day farm work. They are experiencing all aspects of organic farming, and learning Joyce's tried-n-true recipes for making jams and juices. We hope you enjoy your berries this week. Learn more about Blue Fruit Farm, or go visit them, by clicking the link at the top of the newsletter. The farm also produces aronia berries, black currants, elderberries and honeyberries. They sell a variety of jams and juices too. 
Second surprise – NEW POTATOES! We recently met Karlee Brace, Farm-her homesteader of  Nature's Little Farm, located between Hadar and Cannon Falls. Karlee raises pastured beef, lamb and eggs, also offers honey and produce. She works full time as a vet-tech in Lakeville. And she's offered her first new potatoes to us this week. Learn more about Nature's Little Farm on Karlee's FB page at the link above. 
SPECIAL SAMPLING GUEST this Friday, July 14 1:30pm.
 Brit Williams from P&TY granola bars
will be in the Farm Store on Friday sampling her products. P&TY stands for Please & Thank You. Unhappy with commercially made bars, Brit began experimenting with her own recipes in 2015. She is a full-time event planner and brought the bars to her events to share with the staff. At one particular event in 2019 a nationwide natural food
store raved about them and said she should sell them. So, she did. Brit not only wants to make snack bars with healthy, well-sourced ingredients, but they remind us of the importance of manners. "Manners, in the grand scheme of things means that you respect someone, even though you may not agree with them. …..we may just need a reminder to be kind to one another." The Farm Store as a supply of P&TY bars now, and you can sample them and meet Brit on Friday. Please! And thank you for your support.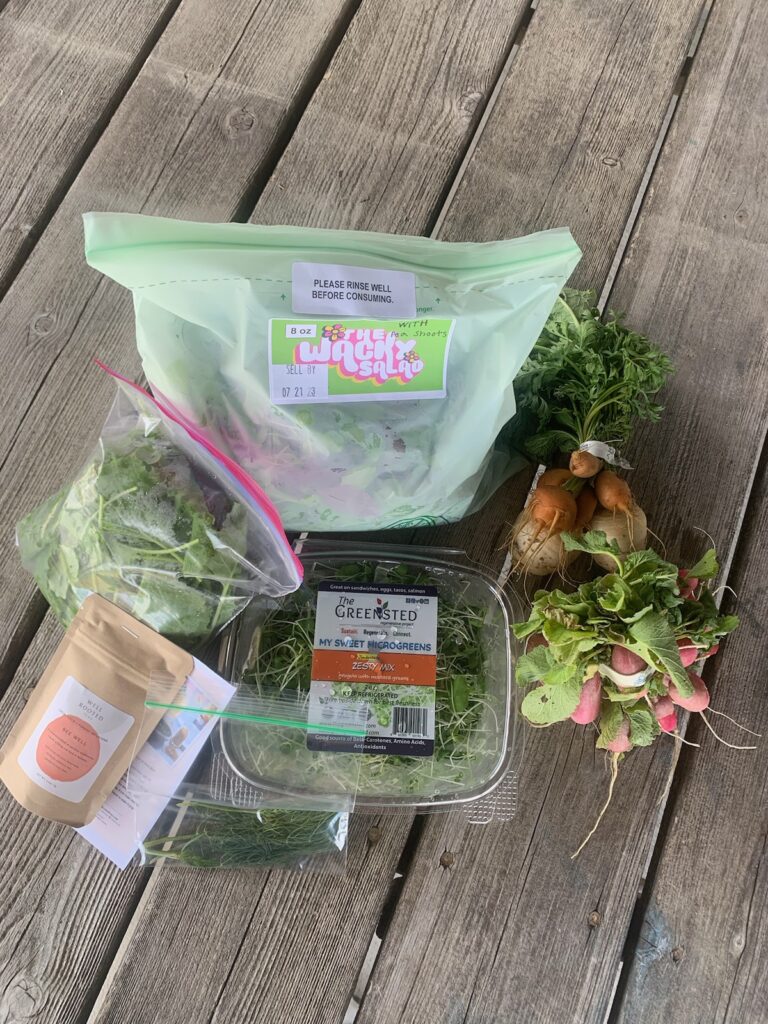 This is what to expect on July 13:
Wacky Salad
Microgreens
*BLUEBERRIES!
***CARROTS
***SCALLIONS
Garlic 
Curly Kale (option)
Onions (Fulls)
**NEW POTATOES
Candies from Annie B's
Not sure what to do with your produce?
Official Minnesota State Muffin –
Blueberry Muffin Recipe
In looking for an easy, but regional recipe with blueberries, I went down a bunny trail learning about state symbols. Most states have them. Bird, drink, flower, fruit, song, you name it. Minnesota has a variety of interesting state symbols you can read about here. Some are a state bee (Rusty Patched Bumblebee), bird, butterfly, fish, gemstone, grain (wild rice), photograph (Grace), soil (Lester soil) and yes, a state Muffin!
Backstory: A creative way to teach the legislative process to grade school students is for a teacher to have the class "lobby" for a state food or symbol. A group of third graders from South Terrace Elementary School in Carlton, Minn. requested a bill be introduced to designate a state muffin. The Blueberry Muffin was chosen because wheat is an important crop in southern Minnesota and wild blueberries are common in northern Minnesota. Representative Mary Murphy introduced the bill and in 1988 Governor Rudy Perpich signed it into law. Incidentally, the Corn Muffin is the official muffin of Massachusetts. Now you know, the rest of the story.
Here is the official Minnesota Blueberry Muffin Recipe! 
Preheat oven to 425°
Makes a "Bakers Dozen"
INGREDIENTS
2 cups All Purpose Flour
1/2 cup Sugar
1 Tablespoon Baking Powder
1/2 teaspoon Salt
1 Tablespoon Orange Zest
1 cup Blueberries (fresh, dried or frozen – do not thaw or rehydrate)
1 cup White Chocolate Chips (optional, but great!)
1 1/4 cup Buttermilk (or soured milk)
1 Egg
1 teaspoon Vanilla
Sugar in the raw (large-grain brown sugar)
INSTRUCTIONS
Preheat oven to 425°

Mix buttermilk, egg and vanilla; set aside
Mix dry ingredients, orange zest, blueberries and white chocolate chips. (

PRO tip

: Coat blueberries in flour to keep them from "bleeding" or sinking in the muffin. You're welcome.)
Make a well in the center and pour in the liquid mixture. Stir lightly just until moistened. (over mixing will cause muffins to have peaks when baked rather than nice round tops).
Spoon batter into lined or greased muffin tins, filling to 1/2 – 3/4 full. Don't over fill. 
Top with sugar in the raw.
Bake for 20-22 minutes.
Source:https://www.sos.state.mn.us/about-minnesota/state-symbols/state-muffin-blueberry/
Rich, melt-in-your-mouth caramels slow-cooked in
copper kettles using all natural ingredients.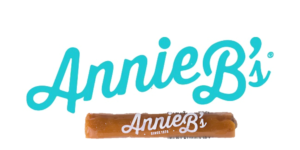 Switching gears this week, we're featuring the newest product in the Farm Store: Annie B's Caramels and  B.T. McElrath's Chocolates. Although World Chocolate Day was last week, we think every day should have a little chocolate. Annie B's was founded in 1978 by Tom and Carol Bouquet of Kellogg, Minn. They enjoyed making caramels, and ventured into making a living at it. The name is after their daughter, Annie. 
Eventually, they added handcrafted popcorn to their market offerings. Oprah Winfrey listed Annie B's caramels in her Favorite Things list in 2014. In 2015, Annie B's merged with another highly-respected Minnesota company, BT. McElrath Chocolatier. Caramels, popcorn and chocolate make a sweet family. Dean is a caramel fan (and these are mighty delicious), Jayne has a new love for Super Red Chocolates – dark chocolate with dried cherries, strawberries and raspberries.
While you can find Annie B's confections in most Twin Cities groceries, on Amazon and Annie B's online, you'll find them right here in Zumbrota at The Greensted too. 
Have a favorite Annie B's item? Let us know! 
Let's B Candy Buddies! Enjoy selecting a caramel or Super reds bite this week with your Share pick up.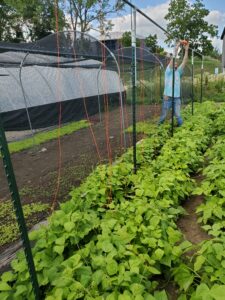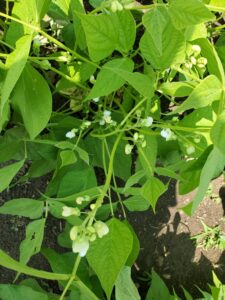 Around the farm this week
The gardens are coming along. The beans and peas have buds, the salad is flavorful and colorful and the hot weather makes the corn "squeak" as my dad used to say. Dean, Keith, Casey and Tommy work out there every day. Our friends, Mike and Clayton, came last Thursday and helped build trellising for the pole beans. We have bush beans in the middle rows, with pole beans along the sides. We roll that way.  Also, check out our variety of NEW PRODUCTS in the store.