2023 CSA Newsletter July 18 – Week 8
This week
During pick-up take a walk out to the Gardens and Dean will give you a quick tour.
So many delicious things coming!
The beautiful weather has really jump-started everything in the gardens! Please take a few minutes to tour them during pickup this week. Every day we notice something new on the plants. We're excited to get to harvesting as things come to maturity. Scroll on down for a fun photo collection.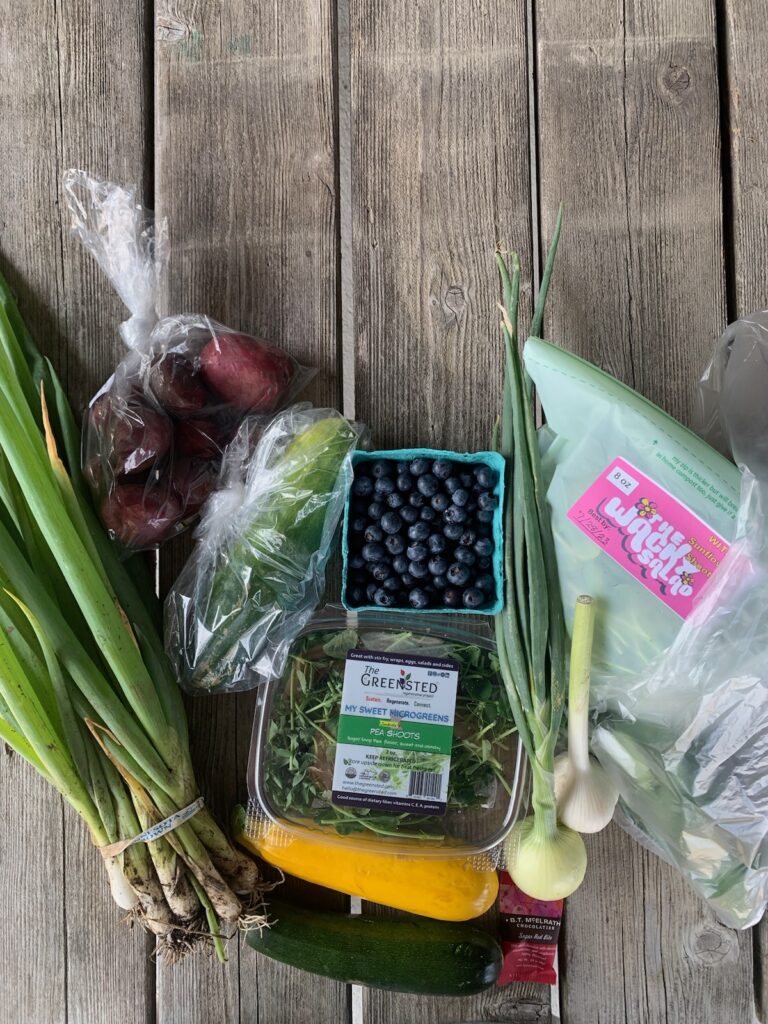 This is what to expect on July 13:
Wacky Salad
Microgreens
*CARROTS
**Fresh Dill
Garlic 
Curly Kale (option)
Beans (Fulls)
tbd
Whole Grain Milling Snack Chips
This week's Share Value:
Full share: $43  ~  Small Share $39  ~  Mini Share $33
*Carrots from Open Hands Farm, Northfield
**Fresh Dill from Levin Family Farm  Cannon Falls
Not sure what to do with your produce?
Quinoa Salad with Cranberries, Apricots and Pumpkin Seeds

 
Friday nights have become "date night" for us, sort of. Due to changing our packaging day for microgreens and salad greens to Wednesdays, we no longer have a twin cities store delivery option. Tag, we're it. We load up coolers with all the orders for 3 stores and take off. After completing the third store, we find something for supper (mind you this is roughly 8:30 or 9 pm).
Last week Jayne spotted a cold salad in the deli case called Crazy Good Quinoa Salad. Boy was that aptly named. I had to find the recipe. The following is very close to what I found at the deli. I've incorporated some fresh produce and of course, top it with microgreens. Try this with the fresh things in your share this week.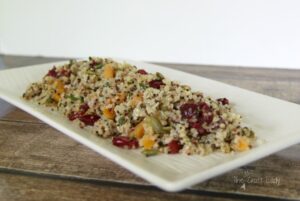 Quinoa Salad with Cranberries, Apricots and Pumpkin Seeds
Makes 2 servings 
INGREDIENTS
 
8 oz. Quinoa – red, white or rainbow
1 Lemon
2 Tablespoons Parsley – or other fresh herb
1/4 cup Extra Virgin Olive Oil – try using your favorite infused EVOO
1 small clove Garlic minced (more or less to taste)
1/4 teaspoon salt (to taste)
1/4 teaspoon pepper (to taste)
1/2 cup dried apricots, chopped
1/2 cup dried cranberries
1/4 cup carrots, chopped quite small
1/4 cup cucumber, peeled and chopped small
1/3 cup pumpkin seeds – or sunflower seeds
INSTRUCTIONS
 Cook quinoa according to package directions – try using broth in place of plain water. Let cool.

In a small bowl, add juice and zest of the lemon, parsley or other fresh herb,  garlic, olive oil, salt and pepper. Whisk well to combine.

In a large bowl, combine the cooked and cooled quinoa, apricots, cranberries, carrots, cucumbers and seeds. 

Drizzle with dressing and toss well.

Refrigerate until ready to serve, at least 14 minutes. 
Source: https://thecrazycraftlady.com/quinoa-salad-with-cranberries-apricots-and-pumpkin-seeds/
Processing organically grown grains.
Whole Grain Milling is located in Welcome, MN. They grow and process certified organic grains direct from the farm. Customers receive the freshest, best quality grain products – from oats, corn and beans to several varieties of flours. In 1989, a year after Doug and Lin Hilgendorf had their farm certified organic, they started Whole Grain Milling. The goal was to do just enough processing of their grains to provide a more useful form while retaining the nutrition and quality found in whole grains. Now sons Jeff and Ross have taken leadership rolls – Jeff focuses on mill work, and Ross the farming. Their brother-in-law, Curt, is a full time employee. It started as a family run farming operation, and continues to this day. Jeff and his wife, Trina, personally delivered our order last Friday.
What is Lysine and why is it important to note it in the chips? Lysine corn is highly nutritional and is a complete protein. Chips that taste good and are good for you! Today you will have one snack bag of yellow high Lysine corn, and will find yellow and blue chips in the Farm Store. Check out our bulk foods section for more products from Whole Grain Milling.
Around the farm this week
The gardens have burst with growth this past week! So many buds and baby veggies all over! Much weeding, wood chip laying and planting has been happening. We hope you can take a few minutes to visit them today – bring the kids! The Mater House is looking neat and tidy and plants beginning to stretch upwards. The Cucumbers are also filling out and ready to grow quickly. We've planted dill, basil and other herbs and hopefully will be ready to harvest for canning season. We've had pickle makers travel from long distances for pickling cukes – the orders are already coming in for this year. Makes us feel all the hard work is truly valued and appreciated. Enjoy the photos!