2023 CSA Newsletter July 4 – Week 6
It's a Holiday week!  Big week for vacations and family time. If you are unable to pick up your share this week or are having someone else get it. please let Jayne know asap. You can reply to this email, call or text. We will hold shares until Saturday for late pick up. We don't mind holding, we ask you simply let us know. 
In honor of both of our birthdays and the holiday we enjoyed a small family gathering on Sunday afternoon. Nearly everything we ate was local food! Brats, burgers from The Old School Acres, Salsas and hot sauces from Double Take Salsa (NEW STORE PRODUCT!). Chips from Whole Grain Milling; Wacky Salad with locally grown tomatoes, strawberries, kale and green onion from the shares last week, with a choice of several dressings. We found sweet corn at a local grocery that was wonderful, and making us anxious for ours to come. For dessert we tried Coconut Whisk cookie mixes (NEW PRODUCT!). Instead of rolling into individual cookies, we popped them into a baking pan and made "bar cookies." We highly recommend this Gluten Free Vegan option!  
We had four of combined six kids, with their others and littles. We were missing two kids and our parents which we would have like to have but didn't work out for this time. Jayne's granddaughter, Shaelyn, pitched pop rocks and sparkled with sparklers in the early evening. There is nothing like family time with delicious foods and making memories, our style.
We hope you are able to enjoy time with those in your circle this week. Eat fresh-n-local, share the moments, treasure the memories.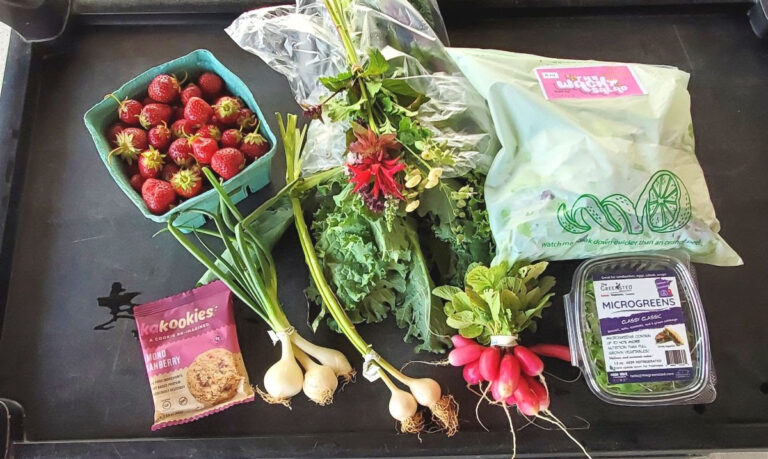 This is what to expect on July 6:
Wacky Salad
Microgreens
Radishes
Baby Kale/Arugula
Other Items TBD
Well Rooted Tea Samples
This week's Share Value: Full share: $tbd ~ Small Share $tbd ~ Mini Share $tbd
NOTE: DUE TO BEING SHORT-HANDED THIS WEEK AND THE HOLDIAY, ALL WACKY SALAD AND LEAFY GREENS WILL NOT BE WASHED. Please rinse well before eating. Microgreens ARE packed rinsed as usual.
Thank you for understanding.
Not sure what to do with your produce?
Sweet Pea Microgreen Bruschetta
Sweet, crunchy, savory pesto topped bruschetta made from microgreens and spinach.
Ready to eat in minutes. Looks fancy….tastes fancy. Without the fuss.
FOR THE PESTO
1 cup Frozen Peas No need to cook; remove from freezer and let thaw 15 minutes
1 oz The Greensted fresh Sweet Pea Microgreens chopped lightly
1 cup Fresh Spinach
1/4 cup Grated Parmesan (find in the Farm Store) or Romano Cheese Nutritional yeast for dairy free
3 Tablespoons EVOO
1 teaspoon lemon juice
1/2 clove garlic save other half for bruschetta
Salt and Pepper to taste to taste
FOR THE BRUSCHETTA
6 slices Ciabatta style bread
2 Tablespoons EVOO
1/2 clove garlic
TO SERVE
Freshly grated Parmesan Cheese Romano if preferred
Lemon Zest
Freshly grated Black Pepper to taste
Extra EVOO
Additional fresh Sweet Pea Shoots for garnish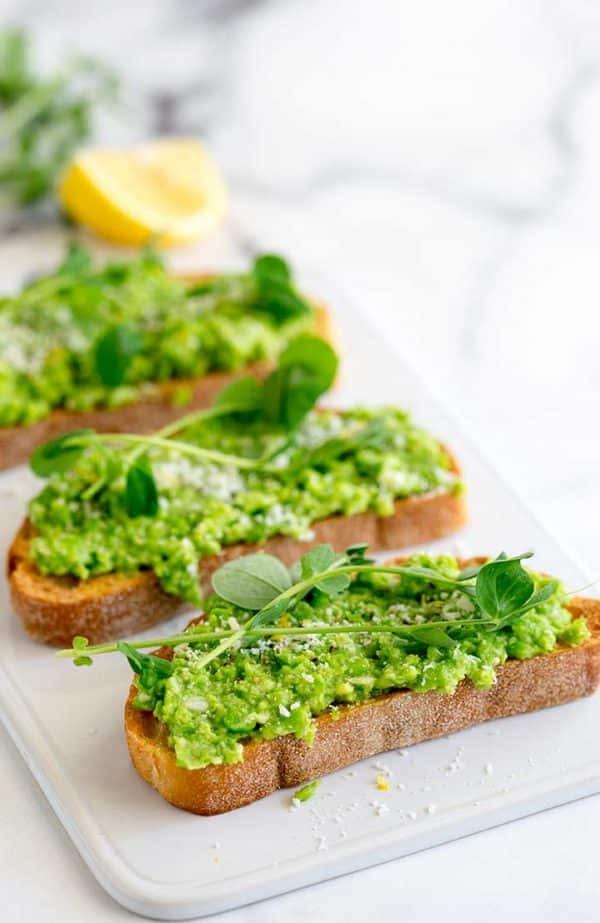 INSTRUCTIONS
To make the pesto topping:
Place the ingredients in a food processor and use the pulse button to chop and combine them until you have a rough paste. Set aside until the toast is prepared


To make the Bruschetta
Pre-heat your broiler or grill
Drizzle the Ciabatta slices with EVOO
Toast for 2-3 minutes a side, until crisp and golden brown
While the toast is still warm, rub the remaining half garlic clove lightly onto the rough toast


To serve
Spread the Sweet Pea pesto over the 6 slices of toasted Ciabatta
Add extra Parmesan (or Romano) and lemon zest to each piece.
Drizzle with extra EVOO and garnish with a sprinkle of black pepper.
Garnish with extra microgreens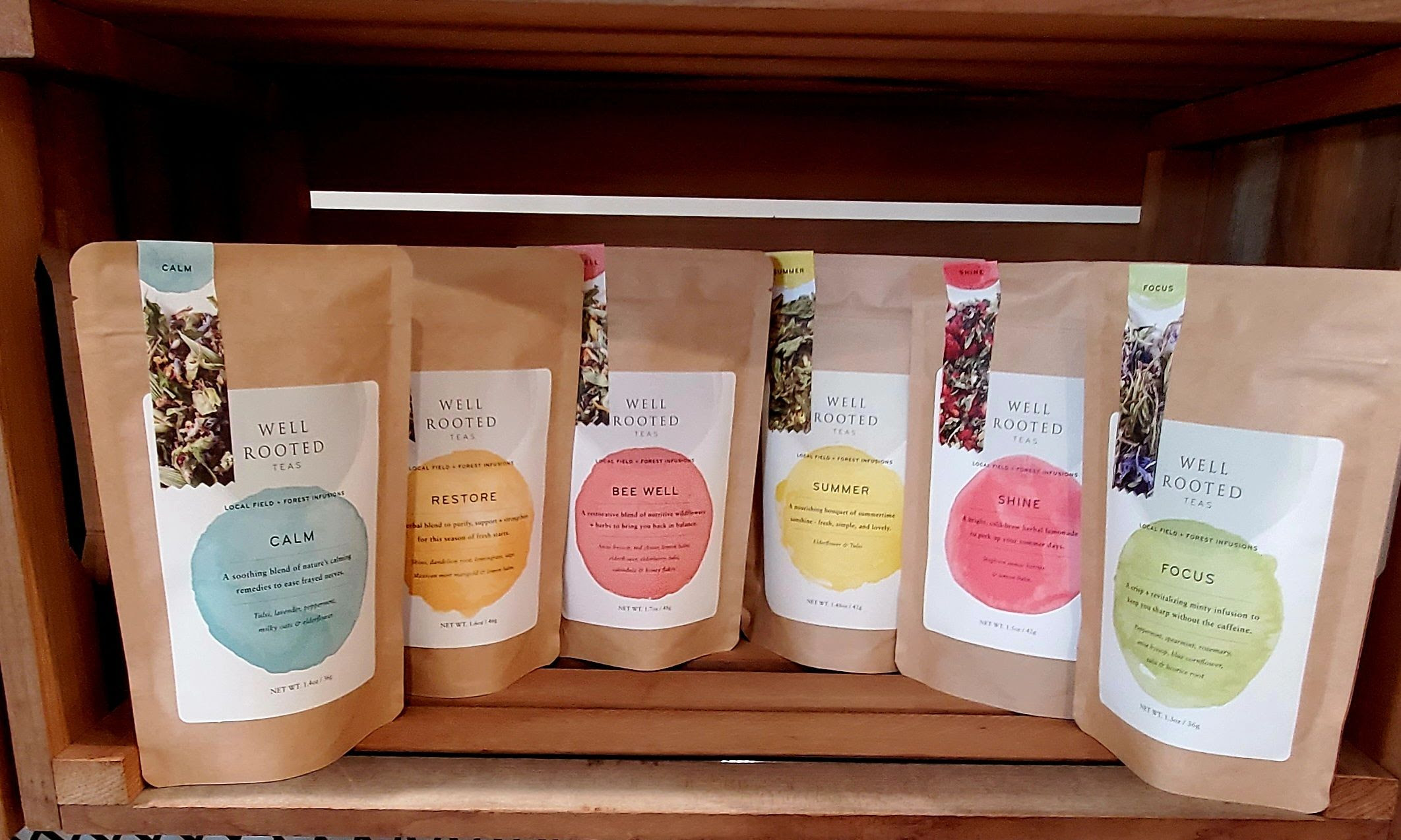 Well Rooted Teas
Local Field + Forest Infusions
Hand-crafted herbal teas – like nothing you've ever had. If Jayne hasn't talked you into trying these, she will! This is in the top five favorite products in our store. Loose-leaf herbal teas are made with plants from local organic farmers (i.e. lavender) mixed with wildcrafted botanicals native to our region.
Rachel Banken, creator, states, "These infusions of herbs, roots, leaves, fruits and berries nourish the body (and soul!) and are harvested in a manner promoting the health of our environment. All ingredients grown by local farmers are foraged with permission from private lands and according to wildcrafting sustainability guidelines." Rachel not only supports the local agricultural community purchasing over 80% of ingredients from within 250 miles of Minneapolis, but she's committed to clean ingredients. There are NO synthetic pesticides, fertilizers, GMOs and most are certified organic.  Each flavor is created with very specific intention. 

      "We believe in the healing power of plants. Nature restores, sustains and nurtures. Our blends connect you with these healing properties of nature." 
The Bredlau home uses a great deal of  Bee Well over the winter season and cold-brews the seasonal varieties thru the spring and summer. 
Click the link above and read more of her story. We will include samples of Well Rooted Teas in your share this week.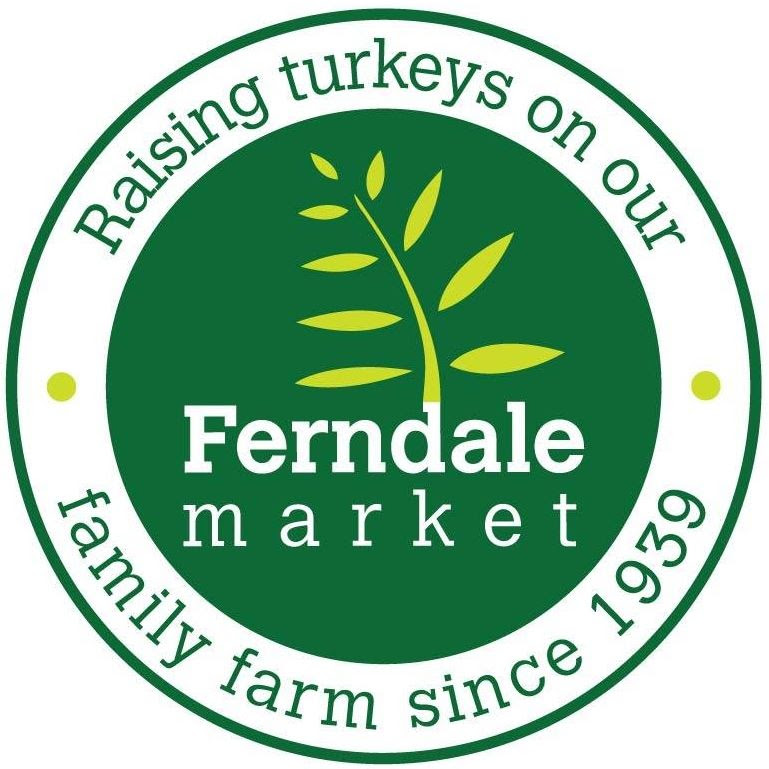 Now that Independence Day is over, let talk Turkey!
Thanksgiving Turkey that is.
The Greensted is taking pre-orders for your holiday turkey needs. Turkeys will be delivered to The Greensted – we'll post specific day/times. We have freezer space for only 2 or 3 frozen turkeys in our store so your best bet is to pre-order.
Orders

DUE by AUGUST 30

MUST choose a size range (i.e. 10-12 lbs, 13 – 14lbs, etc.).
Pre-payment is required based on lowest weight ordered.
Orders must be picked up day of delivery. Date tba.
Choose what suits your needs:
Fresh Never Frozen: The special flocks are raised specifically for their fresh program. All are harvested in the days just prior to Thanksgiving. Deep chilled to retain freshness. Size range: 10 – 24 lbs $2.49/lb.
Frozen: Frozen turkeys come from summer and autumn flocks and are flash-frozen at the processor. A great options for value-oriented shoppers. Size range: 10 -24 lbs. $2.24/lb
Smoked Turkeys: Smoked with hardwood chips at family-owned Lorentz Meats. Turkeys are fully cooked, uncured and a great option for quick prep meals. $4.09/lb
Bone-in Turkey Breast: Perfect for small gatherings or to add extra white meat to the meal. Tender and easy to carve. Comes frozen – use within 10 days or keep frozen. $3.09/lb.
We are so grateful for the recent "cloud bursts" of rain. Every little bit helps. The gardens are coming along and we should be seeing the fruits of much labor soon! Lots of planting is still happening, and weeding. We're pretty sure EVERY day is "National Weed Your Garden Day."

The Tomatoes are taking off in the front high tunnel and the cucumbers are happy in the back tunnel. Having these two crops under cover is a huge relief in that if it hails, they won't be damaged.