2023 CSA Newsletter July 27 – Week 9
This week
If you missed getting a garden tour last week, feel free to walk out and take a look!
The beautiful weather has really jump-started everything in the gardens! And we can't say how thankful we are for the recent rains. Please take a few minutes to walk through during pickup this week. Every day we notice something new on the plants. We're excited to get to harvesting as things come to maturity.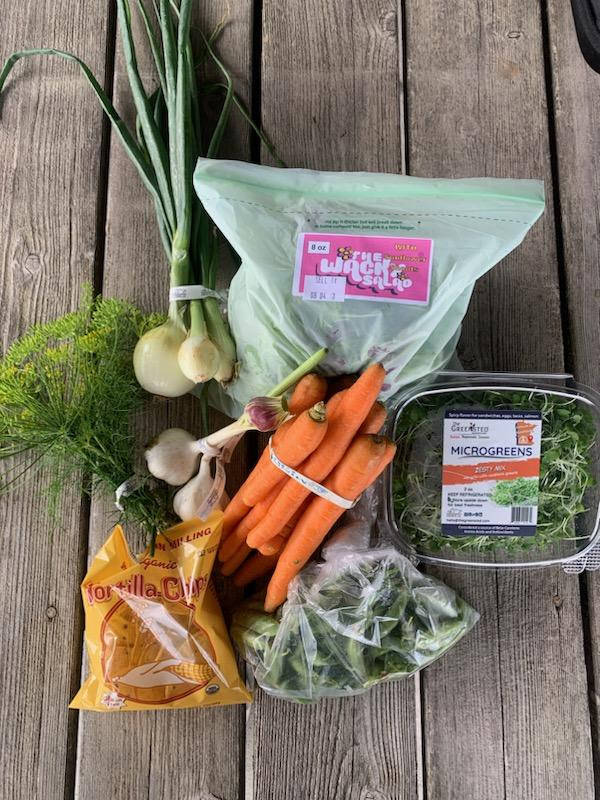 This is what to expect on July 27:
Wacky Salad
Microgreens
Green Beans
Peas (Limited)
Kohlrab
Garlic 
Onions
Green Peppers
Summer Squash
Jajja Tonic! 
This week's Share Value:
Full share: $36  ~  Small Share $34  ~  Mini Share $32
Fresh Blueberries from Little Hill Berry Farm, Northfield
Not sure what to do with your produce?
Chocolate Chip Zucchini Muffins
Switchin' in up this week. Dessert! (Pssst and no one will know there is a veggie in it!) When my kids were small, they were, well, SMALL. All of them were on the bottom of the "scale" for weight. I made all kinds of muffins! Nutrition and calories in a kid-sized package. Note the health-features of this recipe – whole wheat flour, sub of maple syrup for the sugar, and alternative fats if you don't prefer butter. I suppose you could use blueberries as suggested, instead of chocolate chips. But, why would you? Grab your zucchini this week and get bakin'.
Chocolate Chip Zucchini Muffins
Prep time: 10 min.   Cook Time: 16 min.   Servings: 12  Calories: 148
INGREDIENTS
1 1/4  cups whole wheat flour

1/4 cup unsweetened cocoa powder

1/4 cup sugar (or maple syrup. Increase to 1/2 cup sugar for more conventionally sweet muffin)

1 teaspoon cinnamon

1 teaspoon baking powder (double check the expire date on your can. If it's past, it won't work as well.)

1/2 teaspoon baking soda

1/2 teaspoon salt (omit if using salted butter)

1 cup grated zucchini – squeezed dry and packed tightly

1 cup milk (or milk alternative)

2 eggs (lightly beaten)

1/4 cup unsalted butter, melted (sub. canola oil, avocado oil or half apple sauce/half oil)

2 teaspoons vanilla extract (or 1 teaspoon almond extract)

1/2 cups chocolate chips (OR 1 cup blueberries)
INSTRUCTIONS
Preheat over to 375 degrees F. Coat a standard size muffin pan with non-stick spray. The muffins don't have enough oil in them to peel away cleanly from paper cups. 

In a medium bowl, stir together the flour, cocoa, baking powder, sugar (if using maple syrup, add to the wet ingredients), cinnamon, baking powder, baking soda and salt. 

Grate the zucchini with a box grater (or processor) and squeeze out as much liquid as you can with your hands. (roll in a towel, to squeeze out excess moisture.) Measure 1 cup packed tightly of zucchini.

To a medium bowl, add the zucchini, milk, eggs,  (maple syrup if using) butter and vanilla. Whisk to combine.

Gently stir in the flour mixture. Fold in the chocolate chips (or blueberries).

Pour a heaping 1/4 cup batter into each muffin cup.

Bake 16 – 18 minutes, or until cake tester inserted into the center comes out clean.

Let cool for 1-2 minutes in the pan. Transfer to a wire rack to cool completely. 
Source: https://www.yummytoddlerfood.com/chocolate-zucchini-muffins-with-blueberries/
A wellness tonic with ancient origins
Our friend, Henry, and his wife Alex, along with their two kiddos (pictured below), have been down to The Greensted several times for events. We met Henry in 2018 at the FEAST! event in Rochester. We tried his tonics and truly, there is nothing like them. Jajja tonics were one of the first products we ordered for our new farm store in 2021 and they will stay in our cooler always. 

Jajja Margaret Luttaaya (photo at left) was born in 1939 in Uganda. She was a health pioneer,, nurse  and herbal medicine guru. She began mixing organic fruits and other superfoods to make wellness tonics which became popular. 

Henry moved to Minnesota after earning a scholarship to attend a university. He earned his Business Management degree and went on to get his Master's in Leadership. While in college, he sent small amounts of money back to Uganda to support his Grandmother's tonic enterprise. The original recipe consisted of boiled down pineapple and ginger. He still uses that recipe today in his Pineapple Ginger tonic. He's expanded the line to include other immune-boosting and anti-inflammatory foods like Turmeric, Baobab, Hibiscus, and Spirulina. All ingredients are organic, and contain a small amount of  organic cane sugar – except Baobab, it has organic Agave syrup for a slight sweetness. And by the way, Henry and Alex are wonderful people to know!

Curiosity piqued? Good! You'll receive a small sample of a tonic this week at pickup. We have 4 varieties in the store cooler. They are best consumed cold, and perfect for this crazy hot weather week. 
Around the farm this week
So much has been accomplished in the gardens this month of July. Now, the harvesting begins! We are excited to bring you peas, beans, kohlrabi and the first green peppers this week! Lots and lots of weeding has been happening and those pesky, hungry deer have nudged their way in under the fence a time or two. Large fields of traditional corn and beans all around, but they want our peas and greens. They know the good stuff! Looking forward to seeing you Thursday.