2023 CSA Newsletter August 2 – Week 10
This week
We're keeping busy! We are excited to bring you more product from the TG Gardens this week. Sorry – no fun store sample. BUT stop in the store and see all the new products, and some restocked ones. So much good food in the region – right in our neighborhood.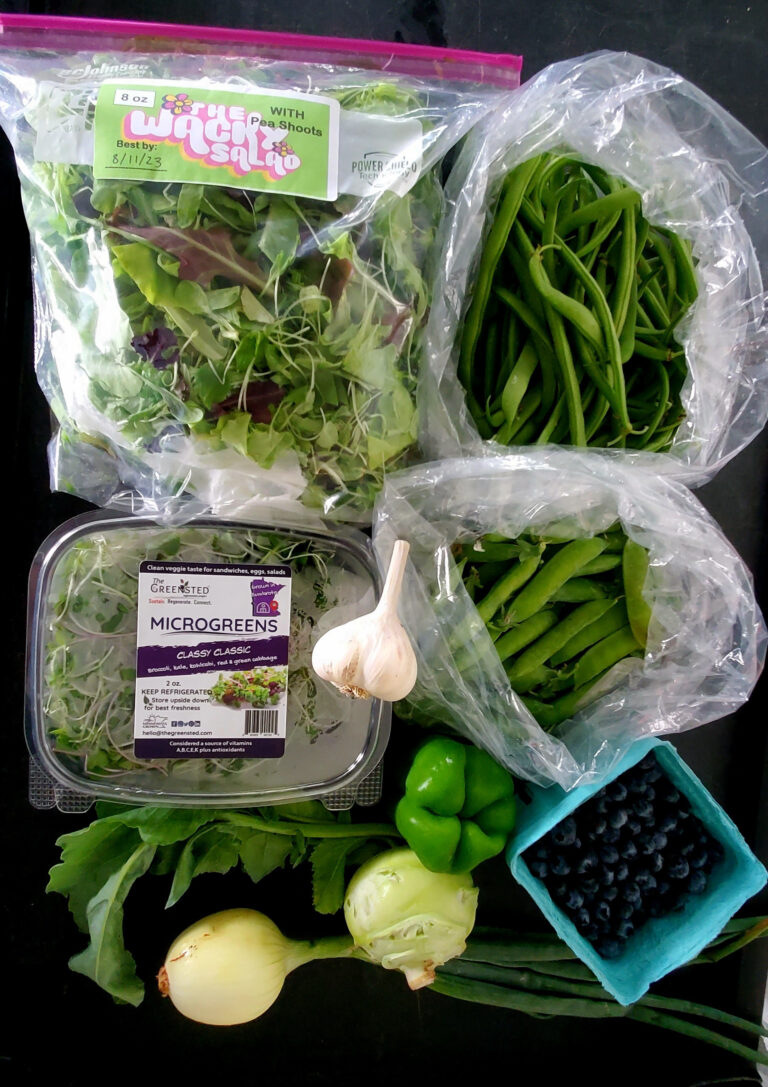 This is what to expect on August 3:
Wacky Salad
Microgreens
Green Beans
Shell Peas
Kohlrabi
Garlic 
Onions
Green Peppers
Fresh Dill
This week's Share Value:
Full share: $tbd  ~  Small Share $tbd  ~  Mini Share $tbd
Not sure what to do with your produce?
Serves 4 
INGREDIENTS
1 lb spaghetti or zucchini noodles

1/2 cup Extra virgin olive oil

2 tbsp butter

1 tbsp minced garlic

1 tbsp grated lemon peel

1/4 cup fresh lemon juice

1/4 cup chicken broth (could use vegetable)

1 tsp dried basil

1/4 tsp Salt

1/8 tsp pepper

1 cup Greensted Zesty Mix Microgreens

1/2 cup chopped parsley
INSTRUCTIONS
Cook spaghetti in a large pot of salted boiling water until al dente. Or prepare your zucchini noodles.
Meanwhile, in a small saucepan, heat oil and butter over medium-low heat.
Stir in garlic, lemon peel, lemon juice, broth, basil, salt, and pepper and raise heat to medium-high.
Bring to gentle simmer, reduce heat and simmer for 3 minutes.
Drain pasta, return it to its cooking pot and immediately pour the heated sauce over it, along with the Zesty Mix and parsley.
Gently toss that pasta and sauce together. Transfer pasta to a serving bowl, and garnish with salt, pepper, and a squeeze of lemon juice.
Let cool for 1-2 minutes in the pan. Transfer to a wire rack to cool completely. 
Source: https://floridamicrogreens.com/garlic-and-lemon-pasta-with-arugula-microgreens/ 
Many new products in the store. Stop in!
Big Watt Beverages – bubbly and cold pressed coffees (Highly recommend the Vanilla Cinnamon coffee)
All Clean Food – Free of 14 allergens. Yes they taste good. Try Mac, Taco, Mushroom or Garlic Pasta dinners. Also we have stick and rotini plain macs.
The Secret Gardens – soup mixes, wild rice salad mix (add fresh veg, microgreens and maybe a few salad greens), dip and cheese ball mixes and two varieties of Soup for Singles
Flackers are Back! Restocked.
Baba's Hummus – Restocked (for the 3rd time in a month!) These are dreamy smooth.
Nordic Creamery – Summer butter is back. Garlic and chive and cinnamon butters too. Goat Muenster, Blazing Billy and Cheddar once again in the cooler
Seven Sundays cereals – both Sunflower and Oat Protein, 4 flavors each. Get these – they fly off the shelf.
The Sweet and Spicy Life – NEW baking mixes (all keto, and GF), three varieties of herb packets and one soup starter mix.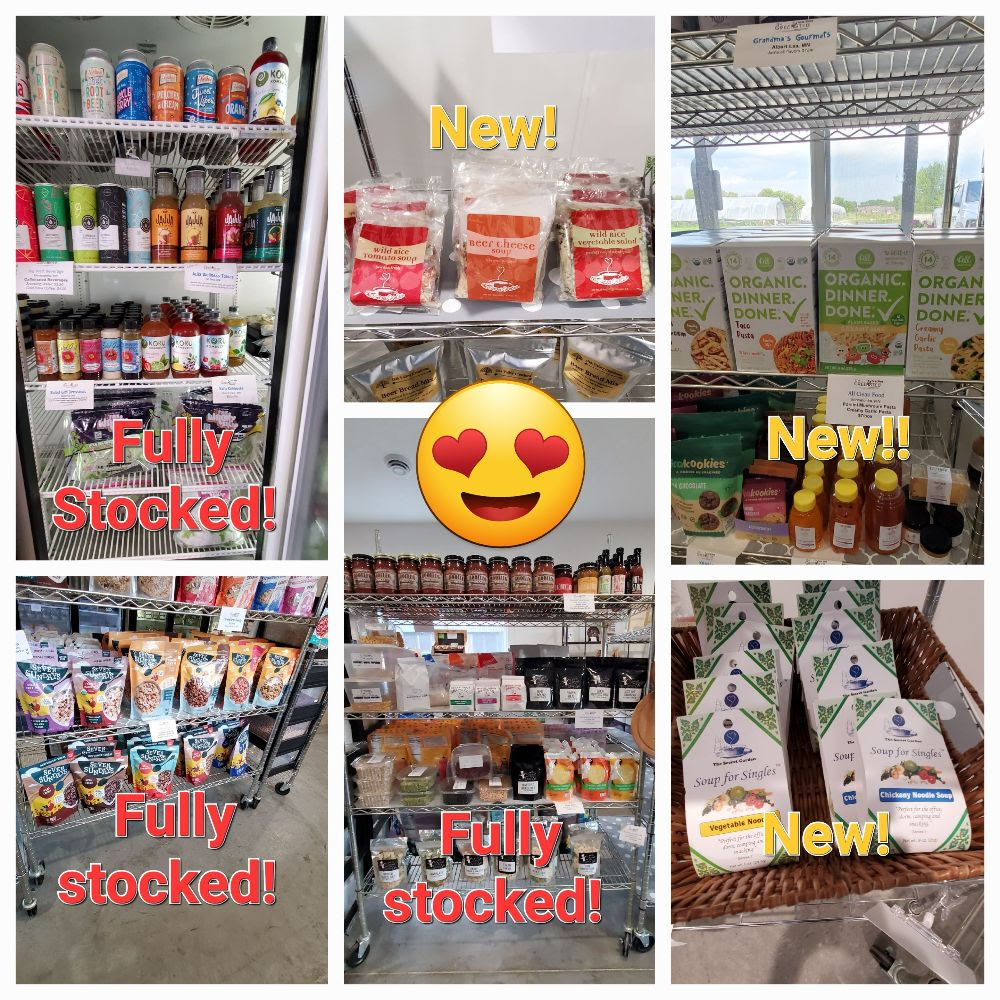 Around the farm this week
Coming to the end of two weeks of short staffing. It's been a challenge! We will be fully staffed next week. Unfortunately no new garden photos this week. Dean did bring in the first red cherry tomato. Jayne ate it. Sorry. Not sorry. Maters coming soon! Cucumbers will hopefully be in shares next week.