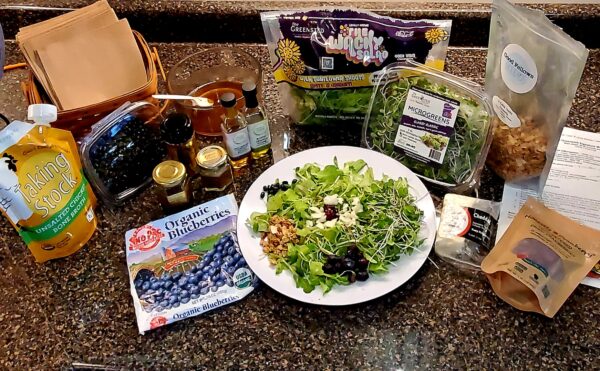 | | |
| --- | --- |
| | |
For dressing: Put jelly in a small bowl. Add remaining ingredients and whisk together. Stir in dried cranberries or save to add to salad. Add freshly ground pepper per taste preference.

Salad: Place salad greens and additional microgreens in a large serving bowl OR spread on a large platter. Note: if plating individually, spread ingredients equally on 6-7 plates, hand-pass dressing.

Arrange berries on top (if frozen, let thaw slightly)

Rough cut your Parmesan cheese, granola, and cranberries if saved. Drizzle dressing on top OR put dressing in a small serving dish to pass.
Make-ahead tip: Prepare dressing adding cranberries. Let sit overnight.
Add a protein:  Add cooked black beans, garbanzo beans or cooked, sliced chicken.