CSA Newsletter August 23, 2022
The Greensted Fall Stedfest will be Saturday, October 8, 9am-2pm
This is what to expect on August 25:
Wacky Salad
Carrots
Beaver Dam Pepper
White Onion
Green Pepper
Sweet Corn
Microgreens
Red Onion
Garlic
Melons
Tomatoes


Not sure what to do with your produce?
1/2 cup red onion, sliced thin
1 medium cantaloupe
1/2 jalapeno, diced finely
Zest of lime
1/4 cup olive oil
2 tbsp red wine vinegar
2 tbsp lime juice
Handful of microgreens
1 tsp honey
1 tsp ground coriander
1/2 tsp cumin
1/2 tsp allspice
1/2 tsp salt
1/2 tsp pepper
Feta for topping
Cut cantaloupe in half and spoon out the seeds. Cut into bite sized pieces.  Add jalapenos, onions, and lime zest.
Whisk all other ingredients together to create a dressing. Toss with cantaloupe. Scatter microgreens and
feta on top. Serve cold.
https://www.feastingathome.com/cantaloupe-salad/#tasty-recipes-30099-jump-target
What's Happening on the Farm this Week?
This week has brought more planting with it. We have been planting peas, cabbage,
brussel sprouts, broccoli, cauliflower, turnips, and beets, all to be harvested in
the fall. Anything with 60 days or less to maturity can still be planted at this time for harvest.
This week, we are highlighting the garden produce at The Greensted. We are accepting pre-orders for large quantities of cucumbers and tomatoes from the garden. Beans have started to slow down so we don't know yet if we will be able to offer those in large quantities. Contact us to set up a time that works for you after September 6th. We will be offering members a 10% discount on all large pre-
orders.
• Cucumbers smaller than 6 in – $4/lb
• Cucumbers larger than 6 in – $3.75/lb
• Tomatoes – $5/lb
This is the conversion chart we will be using. Let us know how many quarts you want to do and we will get you what you need!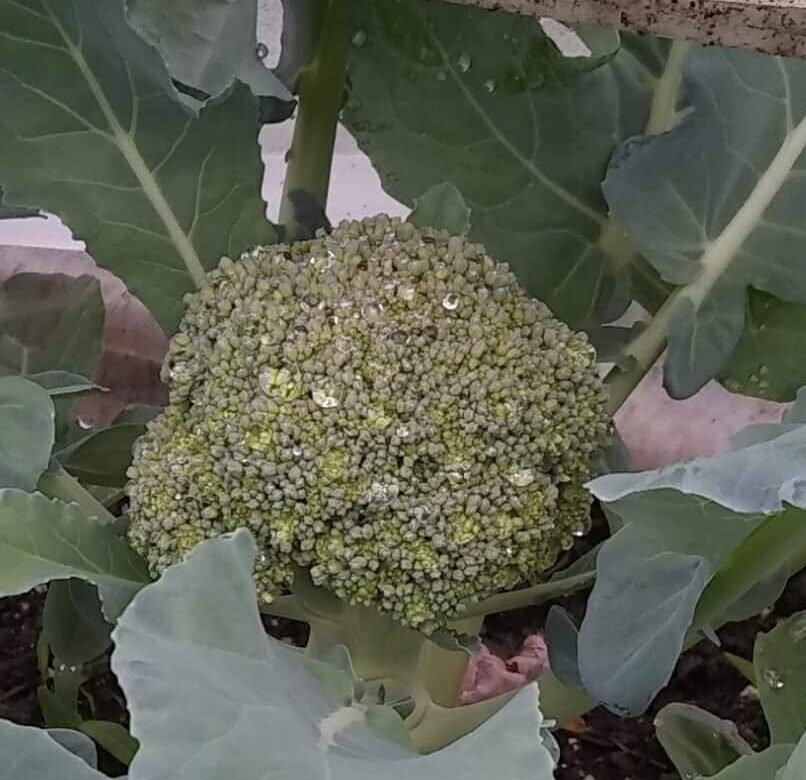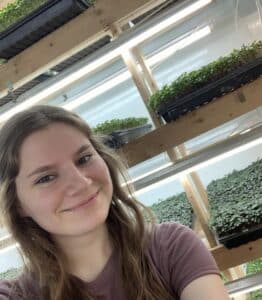 We have also been focused on harvesting. You might think that harvesting one day a week would be enough, but that's not true at all. There's always the chance that we missed a vegetable the first time we picked. Another reason we
are constantly harvesting is that a bean may not be ready today but it could be ready tomorrow or the day after. We don't want anything to overripe or get eaten by bugs so we make sure we harvest a few times a week.
This week, I'm introducing myself. My name is Abby and I've been working at The Greensted over the summer as a marketing intern. I go to the U of M Twin Cities and am pursuing a degree in Marketing.
At the beginning of summer, I was focused on bulking up The Greensted's social media presence. We were mainly on Instagram and Pinterest so I did a lot of research into what is popular to post and
other things like that. Later, I started recording and editing Youtube videos. It was really scary at first to be posting on social media (since I don't do it in my personal life), but it turned out to be one of my favorite experiences here.
I'm so glad to have worked here over the summer. I enjoyed meeting and getting to know all of you and I will miss you all.