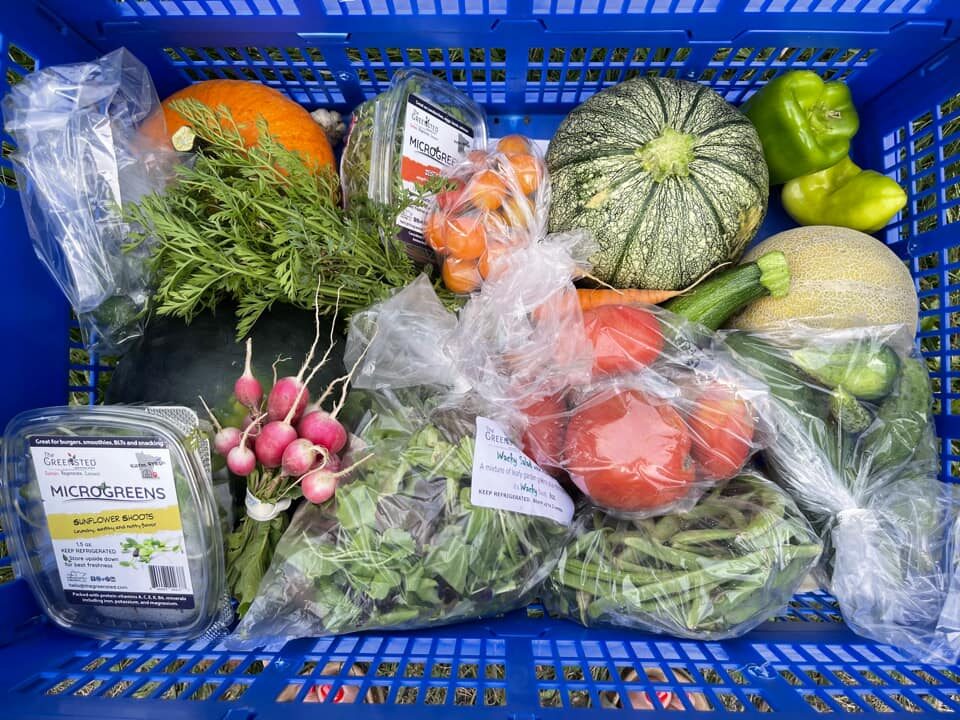 Community Supported Agriculture – or CSA , is a seasonal membership purchased ahead of the production season. The benefit for YOU is receiving a weekly "share" of fresh harvested produce beginning the first Thursday in June lasting for 18 weeks, until the last Thursday in September. Member levels listed below. Purchase online here or stop in at The Farm Store. Makes a great gift for someone you love.
What to Expect in Your CSA Box 2023  June 1 – Sept. 28, 2023
     This is what's planned  for the 2023 CSA season. As we implement the best in organic practices to mitigate damage from pests, weeds and weather, some crops are more successful than others. We focus on building soil health, protecting from too much sun and heat, and keeping moisture levels appropriate for each variety of crop. Be assured, we work hard to present the best produce we can for you to enjoy. #freshisbest
Spring  will see very green shares – full of spring greens, bunching onions, and quick-growing root crops such as radish, turnip and kohlrabi. 
Summer

  shares are filled with cucumbers, tomatoes, sweet corn, beans, peas, peppers, melons and summer squash. 
Fall shares are heavy with comfort: beets, sweet potatoes, potatoes, onions, and winter squash.
    Herbs are in the plan too. The Wacky Salad and Microgreens are weekly staples. You'll have the opportunity to try some of our Farm Store products as occasionally we include an item in your share. A few things we don't grow, i.e. asparagus, we will source from neighboring farms. Pick up is every Thursday at The Greensted. You'll receive a plastic, fold-down crate to bring each week. 
     Thank you in advance for partnering with us through the journey of growing food. 
Jump to catch up with our weekly newsletters!  If you'd like to receive the letters in your inbox, pop us a message with your name and email. We'll get you added. It's a fun read with what's happening, what's fresh, what to cook and who's who around the farm. 
Produce planned for the 2023 growing season.
Beans (green) July – September
Beets (red) Aug – October
Cabbage (green, red, Napa) July/October
Carrots August – October
Cucumbers (slicing, pickles)  July – September
Garlic July
Kale (mixed varieties)  June – October
Kohlrabi (purple, green, kossak)  July, October
Lettuce (Salanova, romaine)  July – October
Wacky Salad Mix Mixed lettuces, spinach, arugula, mustards, beet greens, microgreens  All Season
Melon (cantaloupe, honey dew, watermelon)  July, August (+Sep –TBD)
Onions (bunching, bulb) & Leeks  June – September
Peas  July, September
Peppers – (bell, Beaver Dam, jalapeno)   July – September
Potatoes (red, yellow)  August – October
Radish (French breakfast)  June – July/September – October
Spinach  June, September – October
Squash, summer (green, yellow)  June – September
Squash & Sugar Pie Pumpkin (delicata, butternut, acorn, spaghetti)  September – October
Sweet Corn  July – August
Sweet Potatoes  October (+ Sept. TBD)
Tomatoes (slicers and paste)   July – September
Tomatoes, cherry (red, gold)  July – September
Turnip (white egg)  June, October
This list does not include every crop at the farm. Weather variability may shift the timeline for crops earlier or later.
Memberships and Rates for 2023. Click to purchase online
Full Share (4-6 people)     $630 for 18 weeks ($35/weekly) Largest portions, all items (can be 2 payments)
Small Share (2-4 people) $507 for 18 weeks ($28/weekly) Mid-sized portions, slightly fewer items
Short Season Share (2-4 people) $364 for 13 weeks, 7/6-9/28 ($28/weekly) Same as Small Share
Mini Share (1-2 people)   $414 for 18 weeks ($23/weekly) Smaller portions, fewer items 
Egg Share – 1 dozen weekly, 18 weeks $81