SPROUT OR MICROGREEN?
Do you know the difference? Both are nutrient rich and used on various menu item foods. Sprouts typically are seeds, germinated in water only, for 3 to 5 days. They are not "harvested" but rather packaged as is. The consumer eats the seed and root, sometimes with a small green shoot.
Microgreens are seeds germinated and grown in soil (or other fiber medium),  for 8 to 14 days in a well-ventilated area, CUT to harvest, leaving the seed and root behind. Usually packaged in clamshell containers, the consumer eats the shoot, rather than the seed/root. Personal opinion. we think Microgreens taste much more flavorful. 
Here is a helpful at-a-glance image. This and LOTS more information can be found on this great site Microveggy.com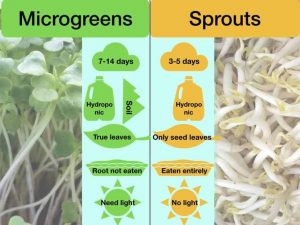 NUTRITION DATA
A few sites on nutritional data you may like to jump over to for more in depth reading.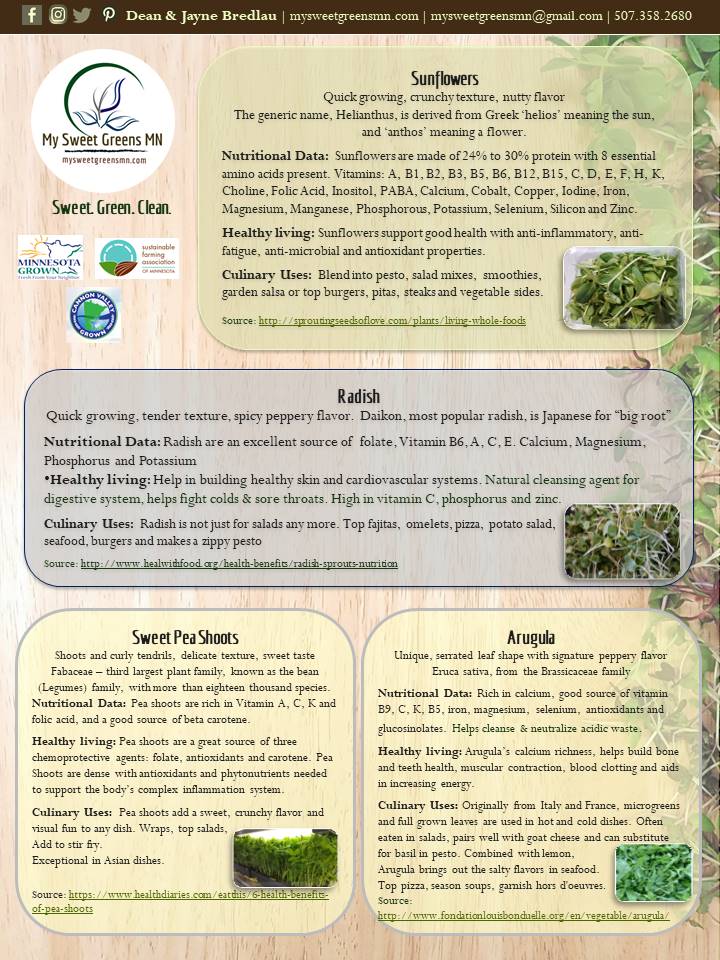 POLICIES AND PACKAGING



We are a southeast Minnesota urban farm committed to safety, quality and environmental responsibility. 
We use 100% post-consumer recycled packaging materials which meet all regulatory standards.
All our plants are grown with fresh soil in a well ventilated growing environment. 
We take care to avoid all contact with common allergens such as gluten and dairy.
Produce is harvested, washed and packaged with the greatest of care and should be ready to eat, however a light rinse is recommended.
Keep your greens refrigerated and lightly moist to maintain freshness. We recommend storing packages upside-down, allowing condensati

on to gather in the

moisture-control paper toweling.
All cups used for sampling at exhibitor events and farmers markets are Solo 2 ounce souffle portion cups. They are made with 70 percent plant-based renewable resources, compostable and discarded appropriately. 
The Greensted is committed to the highest standards for food safety, food quality, and environmental responsibility.
---
ALLERGEN INFORMATION
   All of our Microgreens are free of common allergens. Plants are grown in fresh, sterile soil, in a well-ventilated growing environment, and do not come into contact with any products containing gluten, nuts or dairy. Microgreens are harvested and packaged with the greatest of care to provide our customers with high-quality, food safe products. It is recommended to lightly rinse Microgreens in clear, cool water prior to consumption.
---
Pricing and Delivery
Catch us at an area Co-op, farmers market or restaurant near you.  If we are not in your area, delivery is available. Please contact us for more information!
Sustain. Regenerate. Connect.