CSA Newsletter July 12, 2022
Welcome to our 2022 Community-Supported Agriculture program at The Greensted!
Pickup will be Thursday from 4-6 pm. We appreciate your interest and can't wait to get to know all of you personally. Email us with any comments, questions, or concerns you have.
Thank you!
Small Business Extravaganza will be Thursday, July 28, 4-7pm
*(Formerly July Grill Out)
The Greensted Fall Stedfest will be Saturday, October 8, 9am-2pm
This is what to expect on July 14:
Salad Greens
Bleed Heart Floral Bouquet
Blueberries*
Radish
Walla Walla Onions
Microgreens
Brainstorm Bakery Granola
Garlic Scapes
Cucumbers
Green Beans
*Provided by Blue Fruit Farm
Not sure what to do with your produce?
8 oz Lion's Mane Mushroom
1 egg
1/2 cup panko breadcrumbs
1/4 cup onion, finely diced
1 tbsp mayo 
1 tsp Worcestershire sauce
3/4 tsp old bay seasoning
1 tsp dijon mustard
1 tbsp parsley, finely chopped
1/4 tsp salt
1/4 tsp pepper
2-3 tbsp oil, to fry cakes
Hand shred Lion's Mane Mushroom into small pieces resembling texture of flakey crab.
In a small bowl, combine egg, mayo, onion, Worcestershire sauce, old bay seasoning, dijon mustard, parsley, salt, and pepper. Mix until fully incorporated.
Mix in Lion's Mane Mushroom. Mix in panko breadcurmbs.
Form mixture into 3-4 equal size round flat patties.
Heat oil in pan on medium/high heat. Cook patties about 2-3 minutes per side. Should be golden brown and cooked throughout.
Add optional garnish, squeeze of lemon, or tartar sauce if you prefer.
What's Happening on the Farm this Week?
This week, we have started to film YouTube videos. We want to extend our reach and show a little bit more about what we do here at The Greensted. These videos will include happenings around the farm and other fun and exciting series. Currently, we have been filming our friend Nancy Ellison who owns Ellison Sheep Farm in Zumbrota. We hope to be posting more videos soon so look out for those! Click here to go to our channel!
Our product highlight this week is granola by Brainstorm Bakery. Brainstorm Bakery came about with just a silly idea about naming granola 'Crapola'. This grew roots and became the successful business they are today. All of their granola varieties have fun names like 'Kissypoo' and 'Number 2'. The Farm Store carries all varieties, make sure to check them out!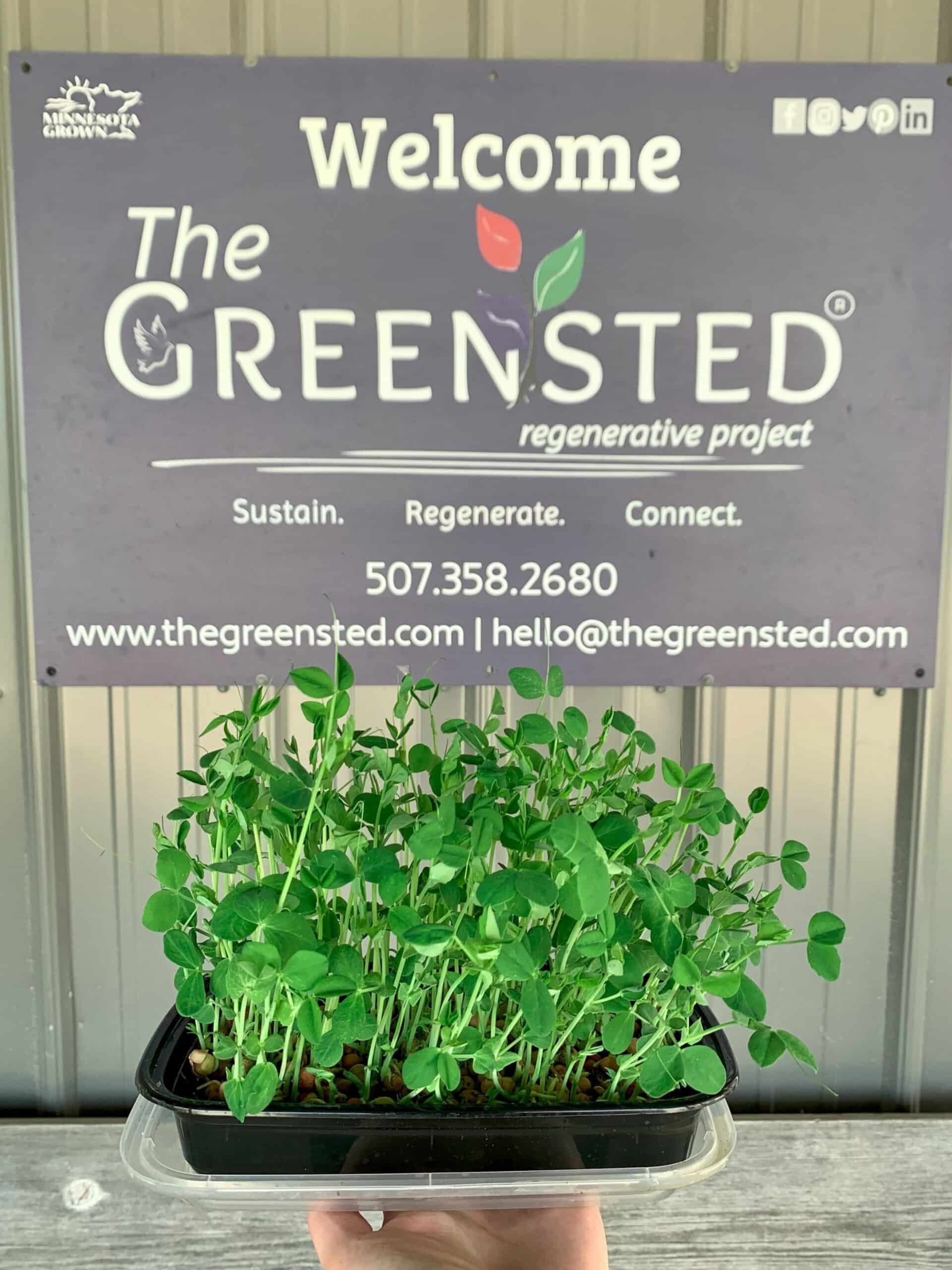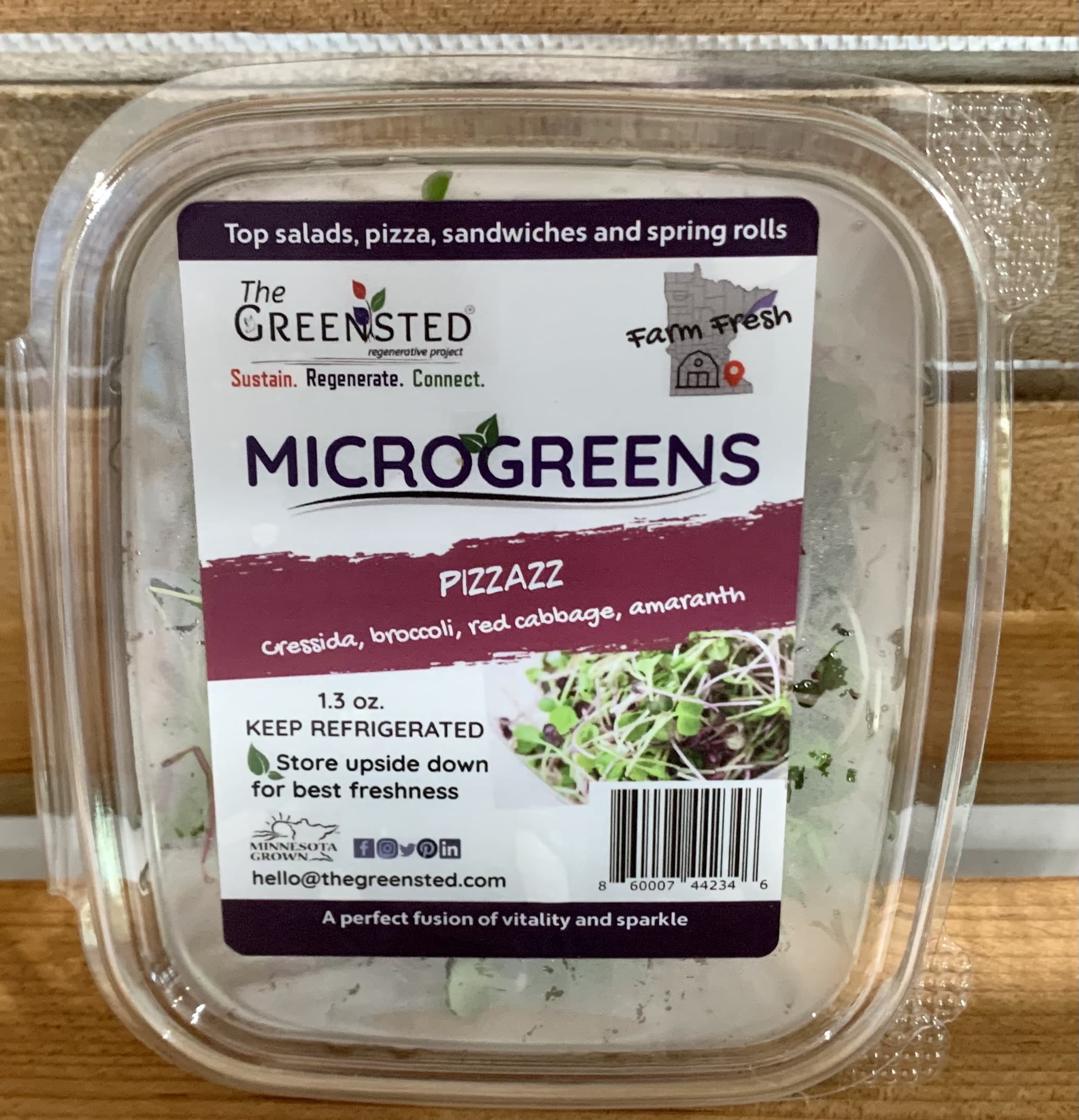 Don't forget to stop in the Farm Store for eggs, baked goods, meat, and your own "Microgreens Mini Grow Kit"! These kits are great for kids. It'll keep them busy everyday with watering and watching them grow!
Our microgreen of the week is Pizzazz. Pizzazz means "vitality with a touch of glamour."  This blend is a combination of spicy cress, red cabbage, broccoli, which rank highest for nutritional  benefits on the USDA website, and the glamour is a bit of amaranth microgreens. So delicious you will want to try it on everything you eat.