2023 CSA Newsletter August 22 – Week 13
This is what to expect on August 17:
Microgreens
Beans – variety
Garlic
Peppers – variety
Broccoli
O Yes – SWEET CORN
*STRAWBERRIES!
*From Little Hill Berry Farm
Cucumbers
Herbs
Other TBD
This week's Estimated Share Value:
Full share: $51 ~ Small Share $49 ~ Mini Share $44
Not sure what to do with your produce?
Sweet Corn!
Probably the most anticipated and favorite summer food in the Midwest.
What is YOUR favorite way to cook sweet corn? We have always put ours in boiling water for 8 – 10 minutes then either gobbled it up or cut it off to freeze. My mom found found a recipe years ago, but after I'd grown up, to cut if off raw, then bake with butter, sugar and salt or something like that. I never liked it as much as plain ole unadulterated corn. Here are 8 ways sweet corn can be cooked for eating. What's your favorite?
Grilling in the husks – place corn cobs husk-n-all right on the grill. Give them 15 minutes, rotating often. Done! This is very popular at fairs, events and many back yard parties.
Boiling salted water – probably the most common way. Husk the cobs, drop into boiling water for 8 – 10 minutes. Don't over cook! Once they kernels are bright and shiny, they are good to go.
Oven Roast – Place cobs with husks still on right on the oven grate. Roast at 350 degrees for 35 minutes, rotating a few times. Nice bright yellow and juicy kernels, deep smoky flavor.
Butter bath – just the name gives a midwestern girl goosebumps. Bring a large pot of water or milk with a stick of butter to boil. Let cook same as boiling method – til bright yellow and heated through. They come out with just a nice shine of butter and flavor. Adding the milk? Not so sure I'd do that but YOLO.
Foil-wrapped grilled – wrap each husked cob in foil with a pat of butter. Grill for 15 minutes. Comes out crisp, juicy and tender with a smoky flavor.
Grilling without husks – husk the corn and place directly on the grill. While this would leave a nice bit of charred kernels, and smoky flavor, it dries out the corn and really isn't fun to eat. But it won't heat up the kitchen!
Insta-pot Users! Raise your hands – this one is for you. Husk the corn, break/cut in half so they fit standing upright on the trivet in the insta. Set for high pressure for 5 minutes of cooking; use the quick release pressure and remove. They apparently come out great! This is a good time saving method.
Last – Microwave method – leaving the corn in the husks, and wrap in damp paper towels. Place on a plate in the microwave. Cook 5 minutes on high. While this is a super-fast no-heat-the-kitchen method, it can shrink and dry out the kernels.
Hey! Let us know YOUR favorite method! We would like to know your family tried-n-true sweet corn cooking schemes.
Source: https://www.thekitchn.com/
Learning opportunities
Everyone is gearing up for back to school. Perfect opportunity for grown-ups to take in a class or two.
Chicken Processing Class – Presented by From The Clay Farm. Some may recall Andy Drees worked for us last year – boy do we miss him this year! He and his wife, Ally, are homesteaders and are excited to do an on-farm class processing meat chickens. Sign up info below. Fun fact: From The Clay Farm provides all of our Farm Store chicken eggs!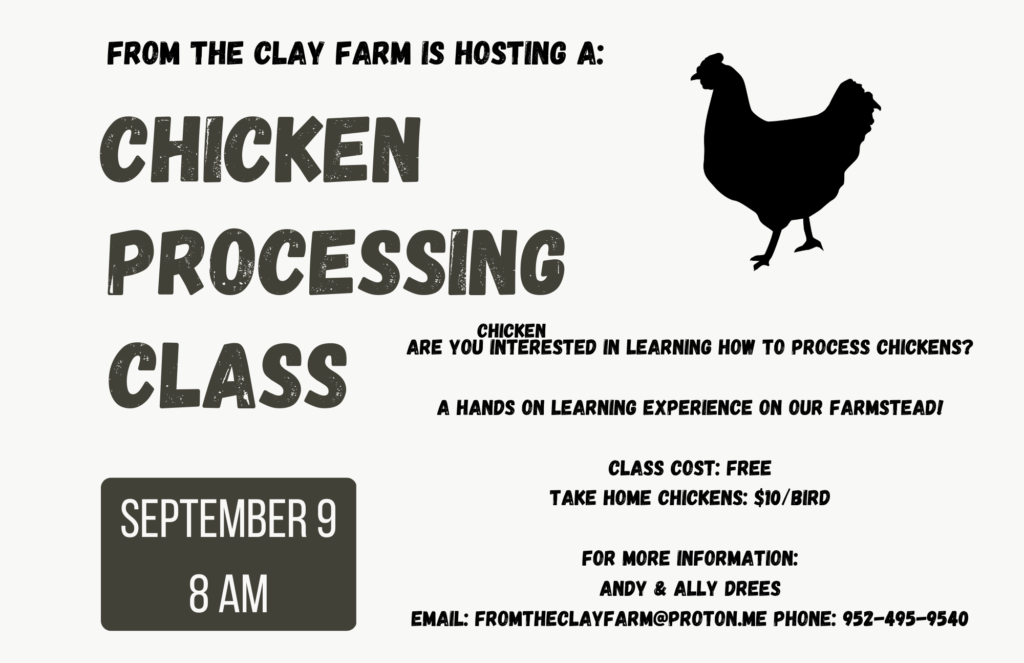 Fire Cider – Make & Take Class with Kara Swenson, Herbalist. Tuesday, Sept. 19, 6pm to 7:30 pm at The Greensted. Some of you may have taken other classes with Kara – she's a tremendous wealth of experience and knowledge. Here is her class description: 

Fire cider- an herbal infused vinegar that was coined by Rosemary Gladstar in the 1970's- is wonderful immune remedy and is a tonic that can be taken daily. Fire cider is one of many remedies that can be made in your home using ingredients you can either grow or find a local grocery store. In this class, you will learn about the benefits of fire cider and the common ingredients in it, how to incorporate it into kitchen and apothecary, and how to make it! Each attendee will get to make their own jar of fire cider to take home. All ingredients will be provided. Each attendee will need to bring their own wide mouth pint (16oz) jar. 

I am asking $30-$45 sliding scale for this class, payable at the class.

Email thistlepatchwellness@gmail.com register or with any questions!
Around the farm this week
Powdery Mildew. If you've gardened at all, you have met up with this fungus. It's common, affects many varieties of plants, and thrives in hot and humid environments. Bam. Nailed that one. Sadly, this overcame our shelling pea plants and they had to be pulled this week. Out they came and we won't have any more shelling peas this year. We're considering planting a small run of sugar snap pea pods. Stay tuned!
The weather has made life for many and beast and plants difficult this week. We're excited to have cucumbers ramping up, tomatoes are blushing and beans are crazy. Melons are ripening, cabbages are sizing up. It's all good!
Let us know if you'd like to place a canning order. We'll have dill and cilantro for a while yet.
CANNING ORDERS! We are taking canning orders. Please get your orders in, and let your family and friends know.
Cucumbers – high demand atm. We are 4-5 weeks out on orders
Green Beans – bring it. We are loaded and can fulfill orders pretty quickly.
Tomatoes – taking orders now, will update on availability for pick up


Have a great week – eat fresh, love local, be healthy.