2023 CSA Newsletter September 6 – Week 15
This is what to expect on September 7:
Microgreens
Beans – variety
Cabbage
Sugar Pie Pumpkin
White Pumpkins
Cucumbers
Minnesota Midgets Melons
Water melon (full, smalls)
Tomatoes
Peppers – variety
Broccolini
First squash – acorn, spaghetti
Fresh herbs
This week's Estimated Share Value:
Full share: $tbd ~ Small Share $tbd ~ Mini Share $tbd
Not sure what to do with your produce?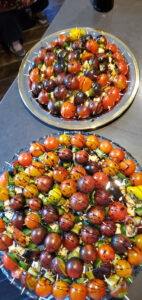 Caprese Salad with Cucumbers and Microgreens
A fun fusion of so much summer goodness
I've been waiting to share this recipe all summer! In August of 2021, I catered my son's grooms dinner. This was the appetizer – cherry tomatoes, cucumber chunks, Cannon Belles cheese cubes and topped with Sunflower Shoots made into little kabobs on toothpicks! A drizzle of homemade balsamic reduction. Garnish with fresh basil leaves. Oooo it was da-bomb. This recipe could be made as kabobs, or simply laid out on a plate. This is the BEST time of year for Caprese!
Prep time: 15 minutes Salad Serves 2
INGREDIENTS
1/2 lb. beefsteak, heirloom sliced or cherry tomatoes for kabobs
4oz. fresh mozzarella cheese pearls – or other soft cheese in cubes
1 small seedless cucumber, thin sliced or chunks
1/4 oz The Greensted Microgreens i.e. sunflower shoots
1-2 Tablespoons Balsamic vinegar reduction **
Fresh basil leaves, small or torn
INSTRUCTIONS
To assemble salad: On two luncheon plates, lay out the sliced tomatoes, covering the plate. Add the mozzarella pearls or overlap the slices every other one with the tomatoes. Fit in cucumber slices every couple of tomatoes slices, dividing between both plates. Drizzle the Olive oil, then the balsamic reduction on each plate. Sprinkle the sea salt and fresh ground pepper. Toss on the microgreens! Serve immediately.
To make kabobs: Stack cherry tomato, cucumber chunk, cheese cube onto toothpicks or similar. Top with basil and drizzle with balsamic reduction.
**To make the Balsamic Vinegar reduction, place 1 cup Balsamic Vinegar and ¼ cup honey in a medium saucepan. Place over high heat, bring to a boil. Reduce heat to low and simmer until the vinegar mixture has reduced to 1/3 of a cup, about 45 min. Set aside to cool. Store in tight fitting container, preferably a jar. The reduction will keep for a month in the refrigerator.

Source: https://www.thekitchn.com/cucumber-caprese-salad-259027
Learning opportunities
Everyone is gearing up for back to school. Perfect opportunity for grown-ups to take in a class or two.

THIS SATURDAY! Chicken Processing Class – Presented by From The Clay Farm. Some may recall Andy Drees worked for us last year – boy do we miss him this year! He and his wife, Ally, are homesteaders and are excited to do an on-farm class processing meat chickens. Sign up info below.
Fun fact: From The Clay Farm provides all of our Farm Store chicken eggs!

Register: fromtheclayfarm@proton.me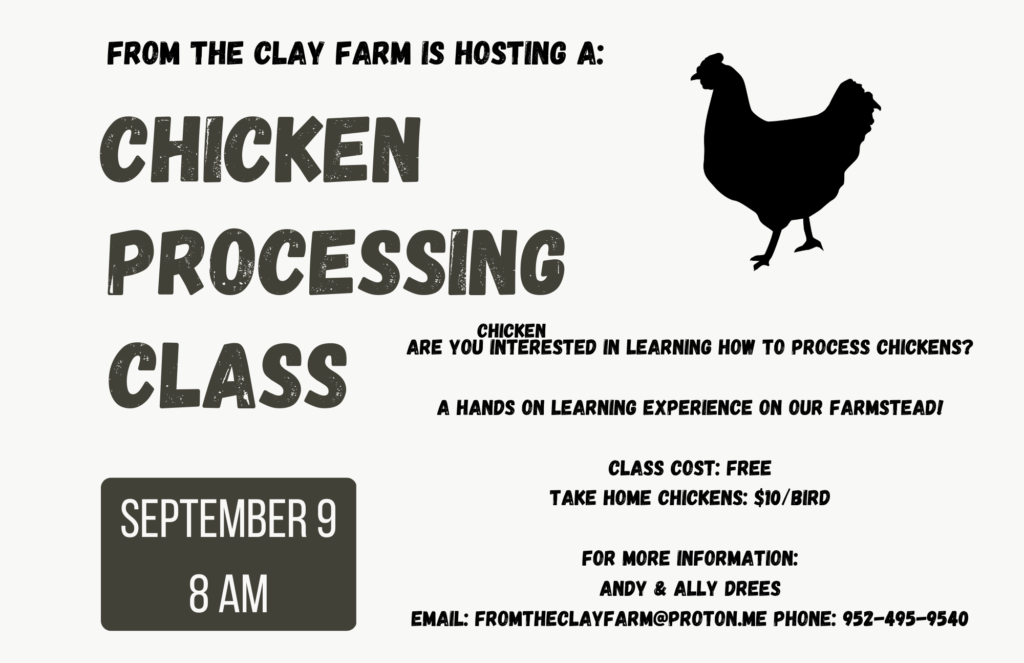 Fire Cider – Make & Take Class with Kara Swenson, Herbalist. Tuesday, Sept. 19, 6pm to 7:30 pm at The Greensted. Some of you may have taken other classes with Kara – she's a tremendous wealth of experience and knowledge. Here is her class description: 

Fire cider- an herbal infused vinegar that was coined by Rosemary Gladstar in the 1970's- is wonderful immune remedy and is a tonic that can be taken daily. Fire cider is one of many remedies that can be made in your home using ingredients you can either grow or find a local grocery store. In this class, you will learn about the benefits of fire cider and the common ingredients in it, how to incorporate it into kitchen and apothecary, and how to make it! Each attendee will get to make their own jar of fire cider to take home. All ingredients will be provided. Each attendee will need to bring their own wide mouth pint (16oz) jar. 

I am asking $30-$45 sliding scale for this class, payable at the class.

Email thistlepatchwellness@gmail.com register or with any questions!
Around the farm this week
Some new things this week from the gardens. How about those cabbages last week! Winter squash are ripening, watermelons, cantaloupe, along side tomatoes, cucumbers and those ever-bearing green beans! Enjoy the remaining weeks of your shares, all the freshness, flavors and variety. Thank you for sharing the season with us. It's been a wild ride, but #worththeeffort.
Let us know if you'd like to place a canning order. We'll have dill and cilantro for a while yet.

CANNING ORDERS! We are taking canning orders. Please get your orders in, and let your family and friends know.
Cucumbers – available weekly
Green Beans – bring it. We are loaded and can fulfill orders pretty quickly.
Tomatoes – available weekly