2023 CSA Newsletter September 26- Week 18
This is what to expect on September 28:
Bit of this and a bit of that!
Tomatoes, cucumbers, pumpkins,
squash, green beans, peppers,
carrots, melons
We'll have a variety of everything. we have. Take what you enjoy. 
This week's Estimated Share Value:
Full share: $TBD  ~  Small Share $TBD  ~  Mini Share $TBD
Shares will be choice this last week.  Enjoy!
Value of shares received Weeks 1 – 17
Full $705.79
Small $590.86
Mini $543.26
Not sure what to do with your produce?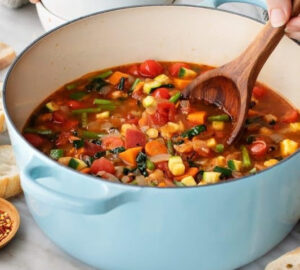 Many-Veggie Vegetable Soup
One last soup recipe for you – a nice way to use all the remaining veggies in your frig. The leaves are turning colors, grill out nights are becoming cozy soup evenings. Comfort food can be very healthy so let's get cookin'!
Prep & Cook time: 40 min. Serves 6
The beauty of this recipe is it's so flexible. See sub options at the bottom.
INGREDIENTS
2 tablespoons extra-virgin olive oil
1 medium yellow onion, diced
Sea salt and fresh black pepper
1 medium carrot, diced
1 small sweet potato, diced
¼ cup dry white wine, i.e., pinot grigio (optional)
1 14.5-ounce can diced fire roasted tomatoes – or equal fresh roasted tomatoes
4 garlic cloves, chopped
2 teaspoons dried oregano, or 2 tablespoons chopped fresh thyme or rosemary
¼ teaspoon red pepper flakes, more to taste
4 cups vegetable broth
2 bay leaves
1 cup halved cherry tomatoes
1 cup chopped green beans
1 zucchini, diced
1 15-ounce can chickpeas, drained and rinsed
2 tablespoons white wine vinegar
1½ cups chopped kale
INSTRUCTIONS
Heat the oil in a large pot over medium heat. Add the onion, ½ teaspoon salt, and several grinds of pepper, and cook, stirring occasionally, for 8 minutes. Add the carrot and sweet potato, stir and cook 2 more minutes.
Add the wine and cook for about 30 seconds to reduce by half, then add the canned tomatoes, garlic, oregano, and red pepper flakes. Stir in the broth and bay leaves. Bring to a boil, then reduce the heat to a simmer and cook, covered, for 20 minutes.
Stir in the kale, green beans, zucchini, chickpeas, and cover and cook 10 to 15 more minutes, until the green beans are tender.
Stir in the vinegar, cherry tomatoes, an additional ½ teaspoon salt (or to taste), and more pepper if desired.
Vegetable Soup Recipe Variations
Use the veggies you have on hand and/or skip what you don't have. Here are a few easy ways to change it up:
Use all carrot or all sweet potato instead of both, or regular potato
Toss in a few sliced cremini mushrooms when you add the carrot.
Swap bell pepper for the cherry tomatoes or zucchini
Use another leafy green, like spinach or chard, in place of the kale.
Garnish bowls with finely chopped parsley or basil, a scoop of pesto, or sprinkle of Parmesan cheese! (available in the Farm Store)
Add a tablespoon of dried Italian seasoning in place of the oregano.
Skip the vinegar, and add a big squeeze of lemon juice in its place.
Leave out the wine if preferred
Omit the chickpeas, or replace them with white beans, lentils or other beans
From the Fresh-n-Local Farm Store
Weekly emails will end this week. HOWEVER we will be sending monthly updates. We will use the current recipient list so you'll see it in your inbox next month. If you'd like to discontinue receiving monthly newsletter, please unsubscribe via the link at the bottom of that newsletter. No hard feelings!
We saw several of you at the Snap Fitness Grand Reopening last Saturday. (photo) It was great to see current friends and make new ones! Check out the updated facility at Snap. There is a great deal of fitness opportunity just waiting for you. Keep your eyes open – just never know where we might show up next.
In the monthly newsletters we'll highlight upcoming community education classes held at our building so you can register if you'd like, farm updates, photos, store specials and more recipes (never enough recipes!). It will be a short read to stay in communication with you. On the flip we always want to hear what's important to you – did you find a great new locally sourced product, know of an event in our area, find an awesome recipe, intel on local classes classes — what matters to you, matters to us. Speak up! We are always learning and enhancing what we do.
Thank you for your support this season. Don't be strangers! The farm store is open year round and we are always finding something new and delicious for you and your family.