CSA Newsletter June 28, 2022
Welcome to our 2022 Community-Supported Agriculture program at The Greensted!
Pickup will be Thursday from 4-6 pm. We appreciate your interest and can't wait to get to know all of you personally. Email us with any comments, questions, or concerns you have.
Thank you!
Small Business Extravaganza will be Thursday, July 28, 4-7pm
The Greensted Fall Stedfest will be Saturday, October 8, 9am-2pm
This is what to expect on June 30:
Salad Greens
Bleed Heart Floral Bouquet
Green Onions
Bags of yummy veggies
Microgreens
Honey from Albers Farm
Cabbage
Strawberries*
Variety of Herbs*
*Provided by Levin Family Farm
1 cup vanilla almond milk
1 frozen banana
1/2 cup berries – your choice
Handful of The Greensted microgreens
6 of of ice cubes
Blend all ingredients together.
Top with granola, berries, and microgreens.
What's Happening on the Farm this Week?
We have an exciting new veggie this
week! This picture is of Andy and our
Napa Cabbage that has bolted this week.
If you're not a plant fanatic, you might not
even know what bolting is. It's when your
plants go to flower and try to seed before you harvest them. To avoid this, you just have to pick it before it bolts or right when you notice it. If you leave it to bolt, you might not get a lot of yield from that plant, if you get any at all.
Our product highlight this week is 2 oz
honey bears from Albers Farm. Albers
Farm is a multi-generational farm that
started producing honey in recent years.
The Farm Store stocks various sizes of honey.
Look for fall pumpkins from young Ethan Albers.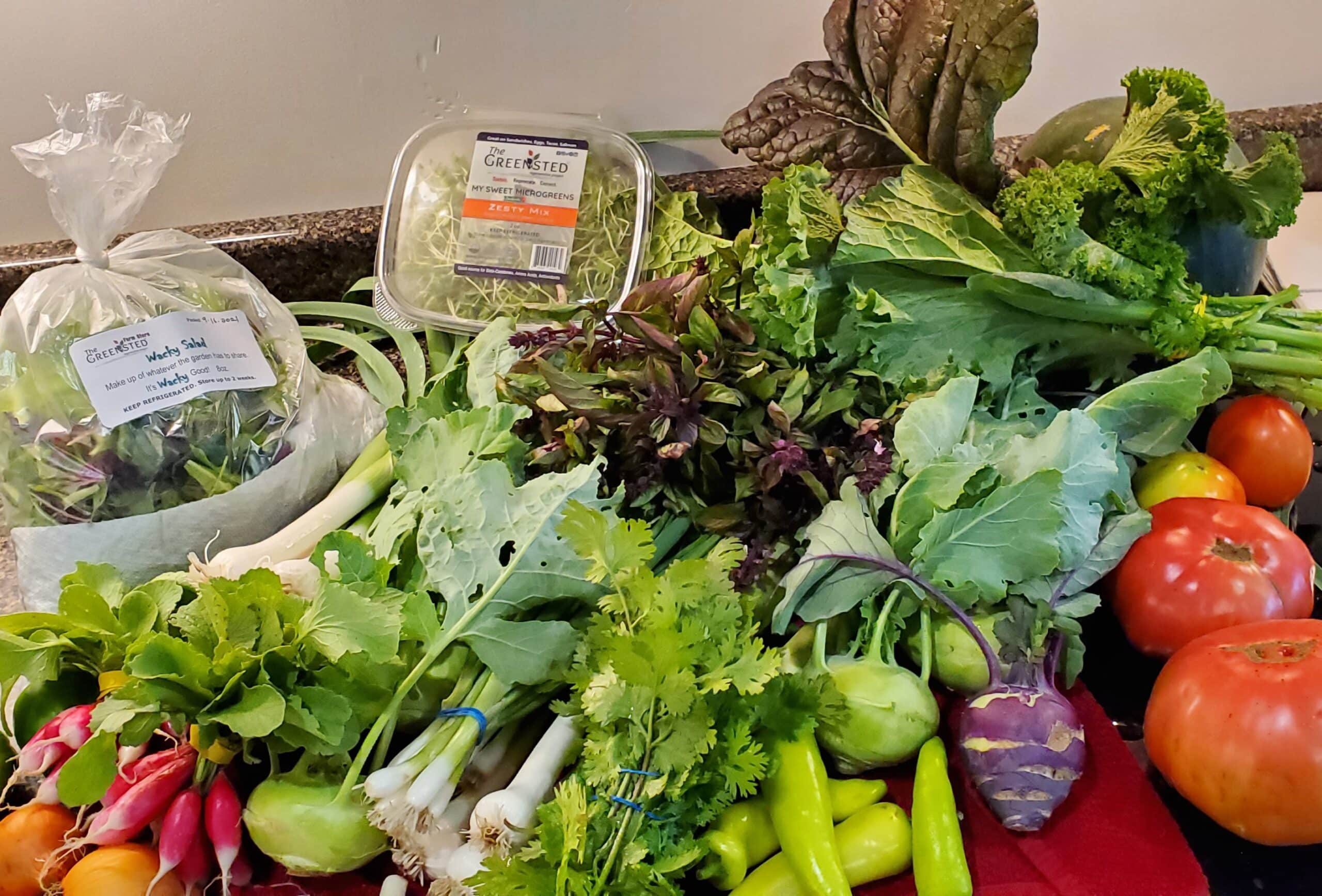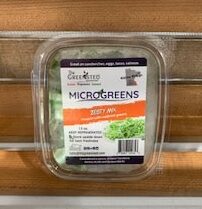 There has been a lot going on in the Farm
Store this week as well! Our freezer has
been fixed and we have been working on
restocking all of the frozen foods that we
had. Ice cream and frozen handmade
pastas have already been restocked. We
expect chicken, beef, pesto, frozen bakery
items, and more to all be delivered and
stocked this week as well. More pantry
items are coming as well, including blue
tortilla chips and mixes for cakes, breads,
pizza, and more (with gluten-free options!).
Our microgreen of the week is Zesty Mix.
Zesty Mix is a blend of arugula and
mustard greens. Arugula has a signature
peppery flavor that is well known. It is rich
in calcium, iron, antioxidants, and more!
The mustard microgreens also have a
peppery flavor, making the mix a spicy
one! They are high in vitamins A, K, C,
and E. These two greens are joined in
Zesty Mix, making a spicy, healthy treat.
Zesty Mix is great on salads, pitas,
sandwiches, and amazing on salmon.