In Italy, Caprese salad is called "Insalata Caprese." Translated "Salad of Capri." White Mozzarella cheese, fresh red tomatoes and green microgreens reflect the colors of the Italian Flag. Make this quick salad for lunch or as a side to dinner. The best in summer flavors!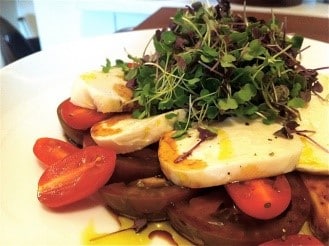 | | |
| --- | --- |
| | |
To assemble: On two luncheon plates, lay out the sliced tomatoes, covering the plate. Add the mozzarella pearls or overlap the slices every other one with the tomatoes. Fit in cucumber slices every couple of tomatoes slices, dividing between both plates. Drizzle the Olive oil, then the balsamic reduction on each plate. Sprinkle the sea salt and fresh ground pepper. Toss on the microgreens! Serve immediately.
Balsamic vinegar reduction **
To make the Balsamic Vinegar reduction, place 1 cup Balsamic Vinegar and ¼ cup honey in a medium saucepan. Place over high heat, bring to a boil. Reduce heat to low and simmer until the vinegar mixture has reduced to 1/3 of a cup, about 45 min. Set aside to cool. Store in tight fitting container, preferably a jar. The reduction will keep for a month in the refrigerator.