2023 CSA Newsletter June 27 – Week 5
Dean and his crew have been very hard at work in the Gardens. Lots of great things coming in your CSA! We'll offer garden tours at pick up in mid-July. It's always fun to walk out and see where your food is coming from. Tuesday the crew cleaned out the front high tunnel (we had green beans and cucumbers in it last year, the remnants were still "hanging," literally.) They also planted 10 or 12 varieties of tomato transplants. HUGE accomplishment for the day, but that's not all. They also planted 8 rows of green beans (second planting – the first ones are thriving) and several rows of peas. Salad greens looking beautiful, and we will have winter squash, more beets and kohlrabi going in yet.
Yes more Kale this week! See the quick recipe below. If you've run out of ideas, here are a couple new ones: Use in pesto in place of basil; make Kale chips, freeze for using in soups next winter, bump your smoothie X factor, sauté in olive oil with green onions (or green garlic), kale salad with radishes, chickpeas, avocado and an olive oil/infused vinegar dressing. Need more? go here
I requested more strawberries for this week's shares, but Miracle Strawberry Farm thought they'd be out by Thursday. If they happen to have more by Thursday morning, you can be sure we'll go get them for you. They were soooo delicious. What did you do with your strawberries last week? At the Bredlau home, we just ate them. Who's with me here??? FYI We will have Blueberries in shares in a couple of weeks from Blue Fruit Farm. Working on raspberries and will have apples in the fall.
Keep checking the Farm Store for NEW products! This week we've added sparkling waters, cold pressed coffee in cans (gotta try the Vanilla Cinnamon), Baba's Hummus and Flackers. Samples available.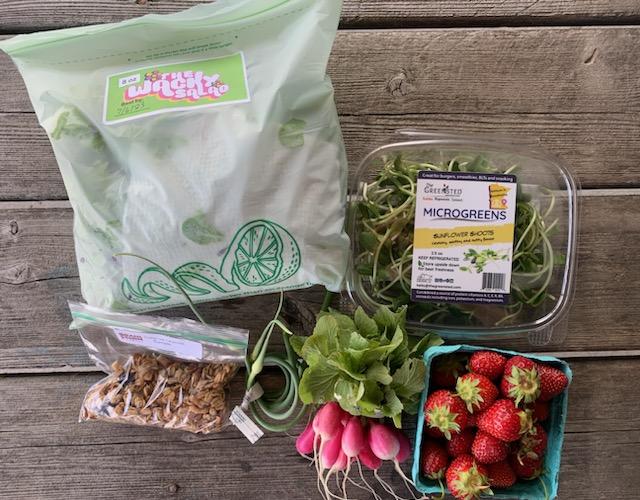 This is what to expect on June 22:
Wacky Salad
Microgreens
Green Onions / Green Garlic

This week's Share Value: Full share: $28 ~ Small Share $28 ~ Mini Share $23
Strawberries from Miracle Strawberry Farm Dodge Center
Kale and Green onions/garlic from Prairie Hollow Farm
Not sure what to do with your produce?
Kale and Apple Salad
Kale, the super wonder food, is sliced into thin strips, then softened in a light lemon dressing. Something cool and tasty for your patio dining.
3 Tablespoons fresh lemon juice
2 Tablespoons extra-virgin olive oil
Kosher salt
1 bunch kale, ribs removed, leaves very thinly sliced into strips
1/3 cup dates (or other dried fruit)
1 Apple – Honeycrisp or similar
1/3 cup slivered almonds
1 oz. Pecorino cheese (made with sheep's milk), finely grated (about 1/4 cup) OR Parmesan cheese (made with cow's milk)
Freshly ground black pepper or other kickin' seasoning you like
Microgreens of course!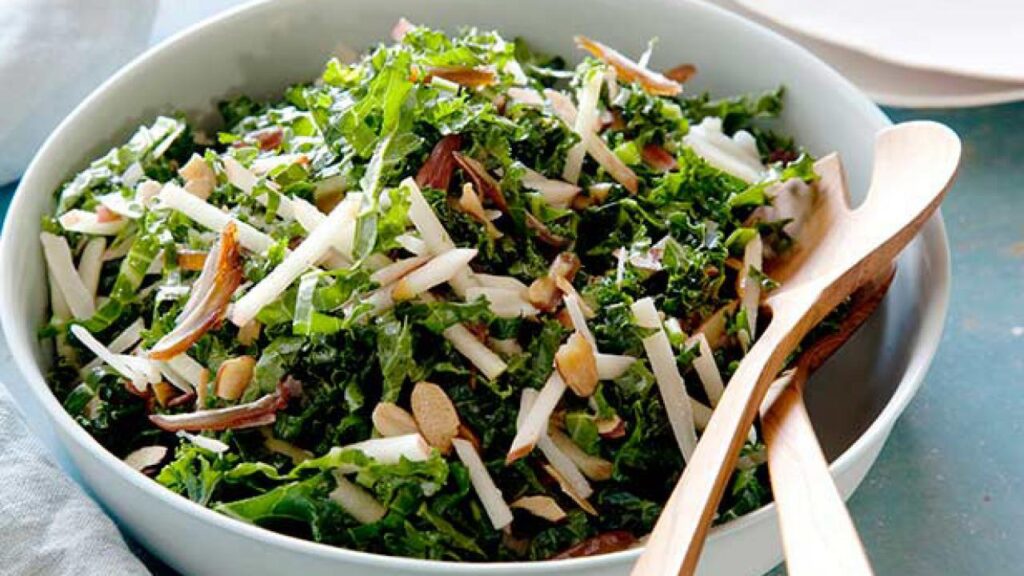 Whisk together the lemon juice, olive oil, and 1/4 teaspoon salt in a large bowl. Add the kale, toss to coat and let stand 10 minutes.

Meanwhile, cut the dates into thin slivers, and the apple into thin matchsticks. Add the dates, apples, almonds and cheese to the kale. Season with salt, pepper or preferred seasoning. Toss well!
Top with microgreens and eat it up.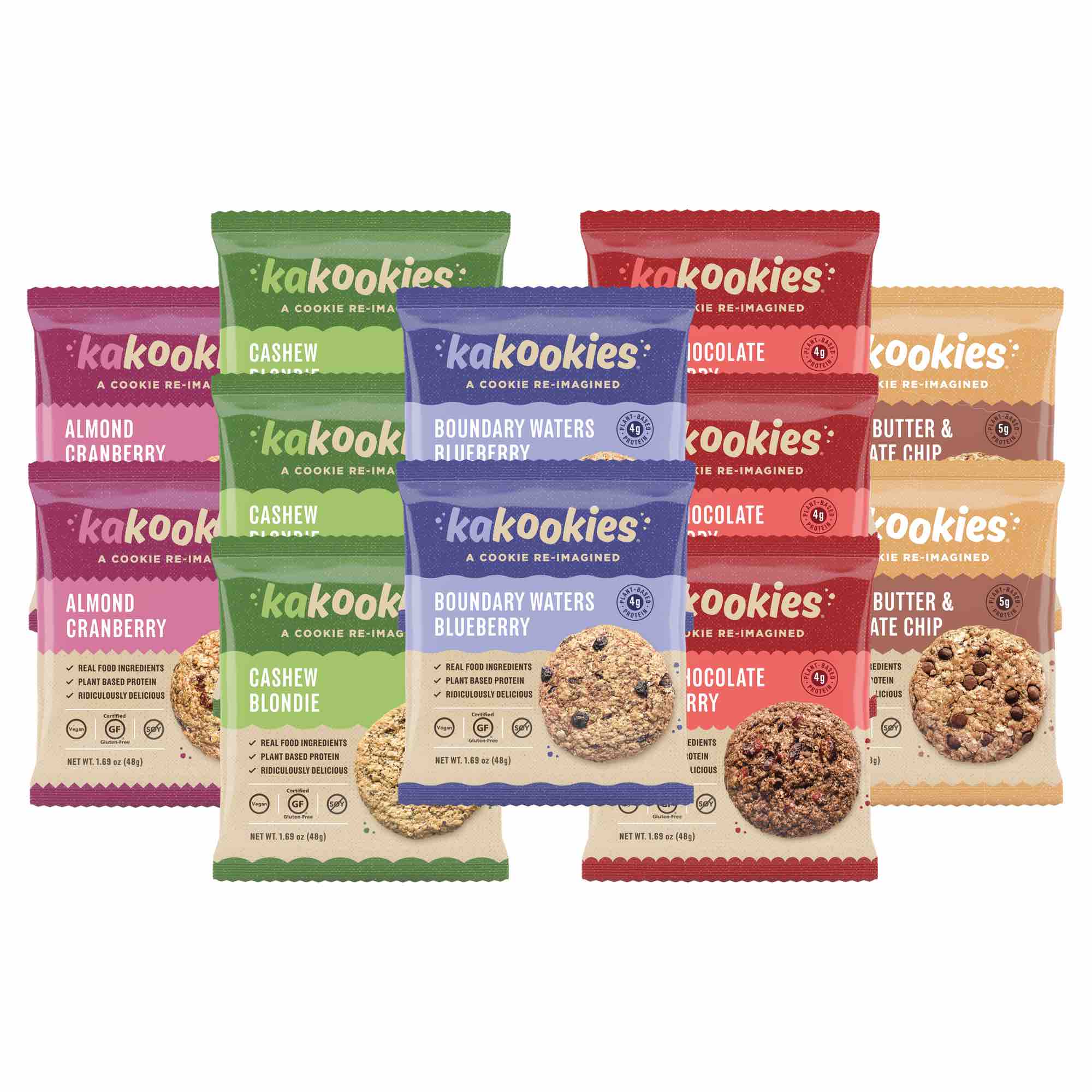 Kakookies
A cookie re-imagined

Originally created by Sue Kakuk (hence….kah-cookies) as a nutritious energy treat for her daughter, a student athlete, when Sue learned she was eating fast food before competing. Sue states, "I wanted to pack the deliciousness and comfort of a cookie with the nutrition of an energy bar." Her gluten-free superfood, re-imagined cookies, went from being a mom-hack to a healthy snack enjoyed by all of us who are on-the-go! Kakookies is a woman owned, multi- award winning business including 2-time finalist at the Pillsbury Bake-Off! They are made with clean ingredients, gluten free, vegan, plant-based protein and no yucky artificial stuff. You will get to try KaKookies this week in your share. And then, you'll come back for more.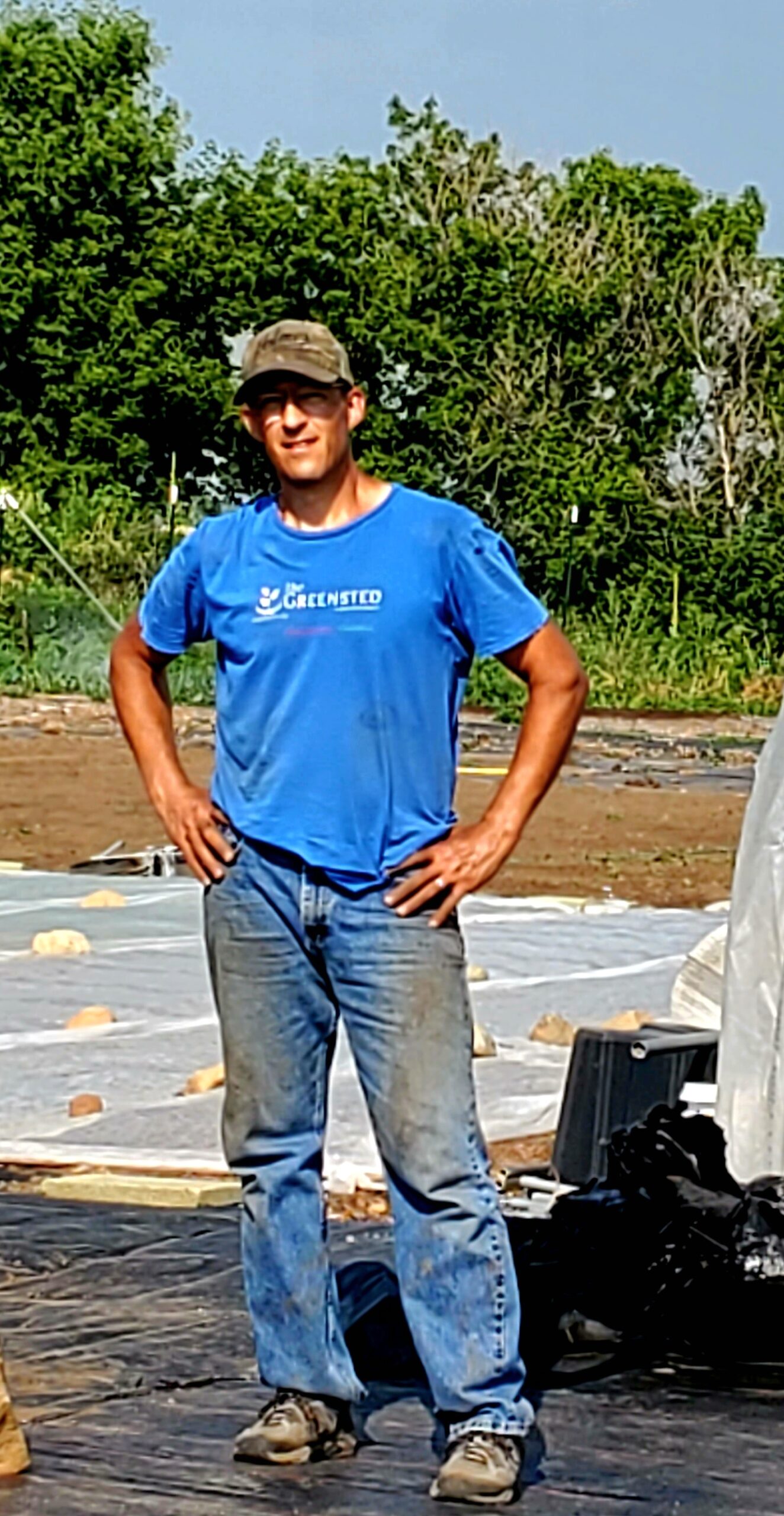 Meet Farmer Dean! He wears dirty jeans, and grows many greens. His day starts at 5:30 am with coffee and reading some Bible passages, and some news headlines. Life is balance, right? Breakfast is usually 3 eggs and toast, maybe a banana. Then he's off for the day to tackle oh-so-many projects. The crew starts showing up by 7 am. A short briefing and they are out the door. Prepping many garden plots, planting, weeding, watering, shade tunnel, row covers, harvesting and more planting and more weeding and soon big harvesting. Wednesdays is harvesting and packaging microgreens and salad greens. While our microgreens levels have dropped to about 40 lbs (from 100lbs) a week, the Wacky Salad greens have increased to 45 lbs (from 20lbs). It's a really long day. Fridays the Farmer drives a 200 mile route to deliver product to 8 or 9 stores. It's his "rest" day.
In the evenings he works on his "side hustle" consulting biz – reviewing and revising hundreds (thousands?) of pages of food safety documentation in preparation for an audit for a business in Wisconsin. Yes, wine and pizza help.
Dean comes from a dairy farming family of 8. He's always loved farming. He enjoys running and watching guy-flicks in his spare-ish time and going for long drives to …wait for it… look at other farms. And it's should be noted, he not only makes the coffee every morning, but pours a cup for his wife and leaves it on her mug warmer – for when she finally decides to emerge from her sleep-fog.
Have gardening questions? Dean is the man.
Coming to your CSA shares this season:
Revolving varieties of leafy greens/reds, radishes, peas, beans, beets, onions, kohlrabi, melons, MANY TOE-MATERS, cucumbers, peppers, potatoes, sweet potatoes, winter squash, sweet corn, pumpkins (pie and jack-o-lantern), and probably more — it's too late to think.