CSA Newsletter May 31, 2022
Welcome to our 2022 Community-Supported Agriculture program at The Greensted!
Pickup will be Thursday from 4-6 pm. We appreciate your interest and can't wait to get to know all of you personally. Email us with any comments, questions, or concerns you have.
Thank you!
Small Business Extravaganza will be Thursday, July 28, 4-7pm
*(Formerly July Grill Out)
The Greensted Fall Stedfest will be Saturday, October 8, 9am-2pm
This is what to expect on July 14:
Salad Greens
Bleed Heart Floral Bouquet
Kale
Rhubarb
Microgreens
Asparagus*
Spinach
Radish
Green Onion
*Provided by Prairie Hollow Farms
6 cups chopped rhubarb
1 quart strawberries
4 cups water
1 tbsp lemon juice
1/2 – 3/4 cup sweetener – agave, cane sugar, honey, other
Put all ingredients in a pot and bring to a boil, reduce heat and let simmer until the rhubarb is very tender and can be mashed easily. You can let it cool a bit if you want but then use a fine mesh sieve to separate the solid rhubarb mash from the liquid. Add maybe 3 or 4 cups of your choice cold water, gingerale or sparkling water, to the liquid depending on how diluted you want it (taste along the way). Then fill a glass with ice cubes and fill with rhubarb-ade!
Garnish with a sprig of mint or even a pea shoot!
Recipe source: http://ohsoantsy.com/rhubarb-ade-a-fun-summer-drink/
What's Happening on the Farm this Week?
This week, we have been planting and planting. Melons, peppers and potatoes went into the ground last weekend. Tomatoes are fruiting. Corn is already knee high! First broccoli, turnips, peas and green beans are coming soon! Garlic, leeks, and onions are looking great. In the works: squash, herbs, sweet potatoes, beets, carrots and more salad successions.
Our product highlight this week is Salad Girl's dressings. As salad greens are being harvested, now is the perfect time to put these delicious dressings on your shopping list when going to the Farm Store. With many flavors like Blueberry Basil, Pomegranate Pear, and Dude Ranch, you'll be eating salad everyday and trying to find other things to put this dressing on. The dressings are always organic and gluten free. Each flavor has a list of food items that it pairs nicely with, just look on the back of the bottle. Your healthy foods deserve healthy dressings.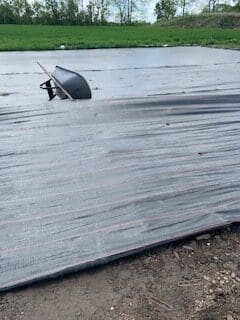 Windy conditions make gardening challenging. Even with many interventions, the wind pulled our landscape fabric right out of the ground, putting the little melon plants in a precarious situation. Hopefully we can get it back into place and make it stay! We're so thankful no hail has damaged the little ones so far.