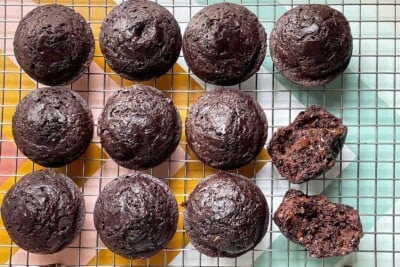 | | |
| --- | --- |
| | |
Preheat over to 375 degrees F. Coat a standard size muffin pan with non-stick spray. The muffins don't have enough oil in them to peel away cleanly from paper cups.

In a medium bowl, stir together the flour, cocoa, baking powder, sugar (if using maple syrup, add to the wet ingredients), cinnamon, baking powder, baking soda and salt.

Grate the zucchini with a box grater (or processor) and squeeze out as much liquid as you can with your hands. (roll in a towel, to squeeze out excess moisture.) Measure 1 cup packed tightly of zucchini.

To a medium bowl, add the zucchini, milk, eggs, (maple syrup if using) butter and vanilla. Whisk to combine.

Gently stir in the flour mixture. Fold in the chocolate chips (or blueberries).

Pour a heaping 1/4 cup batter into each muffin cup.

Bake 16 – 18 minutes, or until cake tester inserted into the center comes out clean.

Let cool for 1-2 minutes in the pan. Transfer to a wire rack to cool completely.