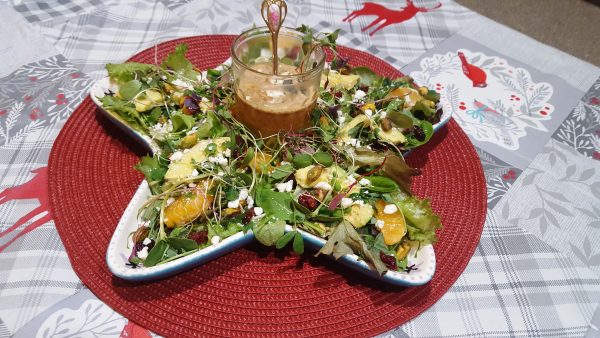 | | |
| --- | --- |
| | |
Place salad greens, sunflower shoots, and snipped sweet pea shoots in a large serving bowl OR spread on large platter leaving center open. Choose an interesting serving plate, platter, shaped dish for a festive holiday presentation. Note: if plating individually, place ingredients equally on plates, hand-pass dressing.

Arrange orange slices, pistachios and dried cranberries over top of greens.

Sprinkle Pizzazz microgreens over the salad.

Arrange avocado slices on top; sprinkle feta cheese crumbles. (If making ahead, hold on avocados and feta cheese until just before serving).

For dressing, whisk together orange juice, honey, champagne vinegar olive oil, Dijon mustard, cinnamon, lemon juice, salt until the salt has dissolved and the dressing is emulsified. Add freshly ground pepper per taste preference.

Dress salad just before serving OR put dressing in a small serving dish, placing dish in the middle of the large platter with the salad for a pretty "wreath" presentation.
Make-ahead tips: Prep salad a day ahead. Have the oranges cut, and all of the components measured and ready. Refrigerate in separate, covered containers. Whisk together dressing and store in refrigerator (whisk the dressing again just prior to serving). Plate the salad about an hour before serving, but wait to put avocado slices, feta and dressing until the last minute.