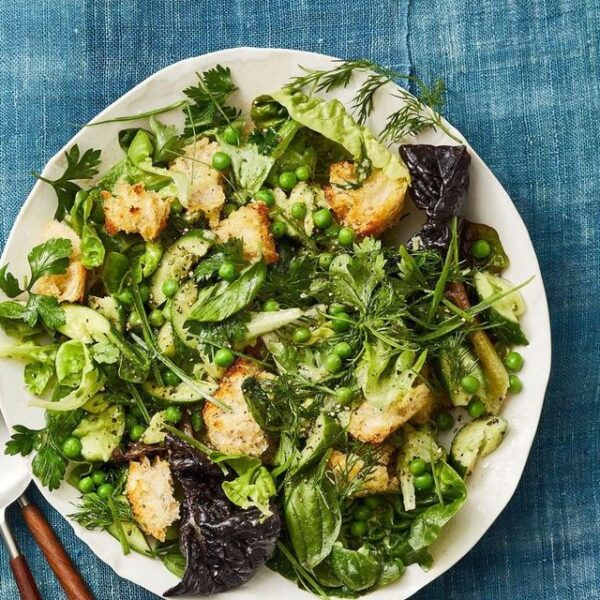 | | |
| --- | --- |
| | |
Finely grate garlic and the zest of 1 lemon into a large bowl. Slice both lemons in half and squeeze their juice into the bowl. Add buttermilk and 6 Tbsp. oil and whisk to combine. Salt & pepper to taste.

Add cucumber, green onions, and pea shoots to dressing and toss well to combine. Let sit while you fry the bread and asparagus.

Pour remaining 2 Tbsp. oil into a large skillet. Place bread in the pan flat. Fry until golden brown and crisp underneath, about 5 minutes. Turn bread over and lightly fry the other side, about 2 minutes. Season both sides of bread with salt or herb seasoning and place on a plate to cool. When cooled, tear bread into bite size pieces.

Arrange asparagus to same skillet, spritz with lemon juice. Increase heat to medium-high. Cook, tossing occasionally, until bright green and blistered in some spots, but still crisp-tender, about 3 minutes.

To plate: Arrange leafy greens and fresh chopped herbs on individual plates, tossing lightly. Arrange the fried asparagus on top. Dress with buttermilk mixture. Top with feta and torn bread. Enjoy!